At the buzzer: Kentucky womens basketball suffers 79-57 loss to Vanderbilt
Kentucky womens basketball fell to Vanderbilt 79-57 in Nashville, Tennessee, as the Cats suffered their fifth consecutive loss in league play.
The loss moves Kentucky to 10-16 on the season and 2-12 in the SEC. The team's two sole league wins have come from an 81-75 win over Florida on the road and a 77-54 victory over Missouri at home.
However, since that win over the Tigers on Jan. 29, Kentucky has been unable to triumph on the court.
Kentucky's scoring duo Robyn Benton and Maddie Scherr both sat out during the Cats' most recent 50-40 loss to Georgia at home this past week and, while Benton returned to action against the Commodores, Scherr continued to stay on the sidelines.
With that being said, the Cats stepped onto the court in Nashville starting the game off strong and ready to fight with the absence of Scherr.
Kentucky's 7-0 run early on helped to put the Cats ahead, despite Vanderbilt forcing eight turnovers on the Cats in the first quarter alone.
With eight points from Adebola Adeyeye, the Cats held the lead going into the second quarter, but zero points from Kentucky's usual leading scorer Robyn Benton would start to benefit the Commodores.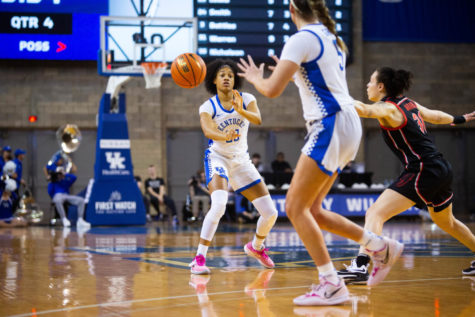 Vanderbilt went on a 10-2 scoring run in addition to adding another seven turnovers on Kentucky. Heading into the half, the Commodores led 24-22 as the Cats were shooting just 30.8% (8-26) from the field.
The Commodores continued to set the pace on the court, extending the lead by eight points at the top of the third quarter, which forced head coach Kyra Elzy to call a timeout before Vanderbilt got too hot.
Yet, Kentucky's attempts would not work as the team picked up its eighteenth turnover and quickly found itself down by 14 points.
Going into the final quarter, the Commodores furthered its lead over Kentucky that would continue until the final buzzer.
Vanderbilt's graduate students Ciaja Harbison and Marnelle Garraud shined on their senior night by leading their team with almost 50 points combined, proving too much for the Wildcats to overcome.
Adeyeye would be Kentucky's leading scorer for the day with 10 points and the only Wildcat to reach double digits. The Cats shot 39.3% overall while going 1-6 from beyond the arc.
Kentucky will continue to look for a bounce-back win when it takes on Texas A&M on the road on Thursday, Feb. 23, at 7 p.m. EST. The game can be watched live on the SEC Network.