Injuries loom over Kentucky womens basketball in recent losing streak
Kentucky womens basketball fell to Vanderbilt on Sunday, Feb. 19, by a score of 57-79.
The loss marks the latest in a series of Wildcat performances where Kentucky has failed to come out with the win.
While many factors can be attributed to this program's struggles, a common one in recent weeks has been injuries.
In the matchup against the Commodores, the Cats played without junior guard Maddie Scherr – her third game of the season missing time.
She also did not play when Kentucky took on Georgia on Feb. 16, in addition to sitting out during the Ole Miss game after exiting early on. Scherr is listed on the injury report under the category "illness."
The transfer from Oregan has been a big player for Kentucky, averaging 10 points and five rebounds this season. She also leads the squad in assists with 4.5 on average per game and blocks averaging 0.9 per game this season.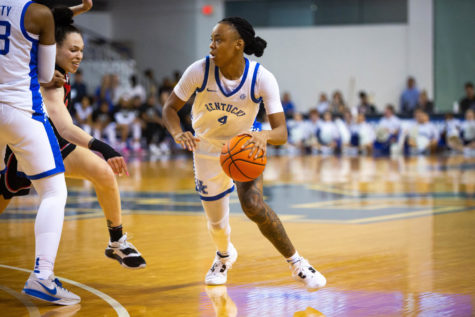 Also missing from the box score for the Cats was junior forward Ajae Petty, who was listed out due to an ankle injury. She put up seven points and six rebounds in the Feb. 13 loss to the Ole Miss Rebels.
Last week against Georgia, in her nine minutes of play, she put up four points and four rebounds with one steal.
Also missing from that Georgia game was senior guard Robyn Benton who did not play due to an ankle injury as well.
The Cats scored a season-low 40 points in the contest, which proved that the absence of Benton and Scherr, two veteran players who have proven key to Kentucky this season, was deeply felt on the court.
To make injuries for the team even more apparent, junior forward Nyah Leveretter suffered her own injury against Vanderbilt in Nashville, from which she had to be carried off the court and did not see any more play time for the remainder of the game.
In a press release sent out on Monday, Feb. 20, Kentucky announced that Leveretter tore her ACL on the court and would be sitting out for the rest of the season.
Head coach Kyra Elzy did not have much to say on the injuries, mentioning that the trainers and medical staff have been working and trying to get the injured players better, but did not give much update.
While these injuries seem to open up opportunities for other players to step up, they also open up holes that are being filled by other Wildcats who struggle to fill the shoes of players such as Benton and Scherr.
Kentucky will hope to heal up before it takes on Texas A&M on the road on Thursday, Feb. 23. The game is scheduled to start at 7 p.m. EST and can be watched on SEC Network.