Poor shooting saw Kentucky womens basketball suffer fourth-consecutive loss
Kentucky womens basketball suffered its fourth consecutive loss on Thursday night inside Memorial Coliseum to the Georgia Bulldogs, losing 50-40 and falling to 2-11 in conference play.  
Coming into the matchup Kentucky was down two starters in Robyn Benton and Maddie Scherr, leading to some less familiar faces on the court for the Wildcats.  
Unfortunately for the Wildcats, the absence of Benton and Scherr, and the inability to knock down shots, led to the 10-point loss.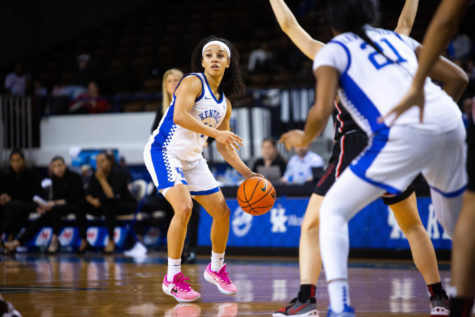 Trailing 13-11 entering the second quarter, Kentucky would go on to turn the ball over eight times, allowing the Bulldogs to outscore the Cats by three.  
After the first half Kyra Elzy's squad was down by five, shooting 26% from the field, making just six of 23 shots. 
"We have to be able to knock those layups down and open shots," Elzy said. 
Unfortunately for Kentucky the lack of made shots was a story it knew all too well, having failed to shoot above 40% in its last four matchups.  
"I think some of it's just mental," Elzy said regarding the recent shooting slump. "We're better shooters than what we are showing." 
Struggles finishing at the basket would continue in the third quarter, where Kentucky would go just 2-11 from the paint. Kennedy Cambridge would miss all four of her free throw attempts in the third quarter as well. 
While Kentucky struggled to find its rhythm offensively, Georgia went on an 11-0 run to go up by 15 entering the fourth quarter.  
Kentucky would find its stride later in the fourth quarter, going on an 11-0 run of its own and cutting the lead to four, but it was too little too late for the Wildcats, who, even after dominating the majority of the fourth quarter, were unable to overcome the 15-point deficit they were once in.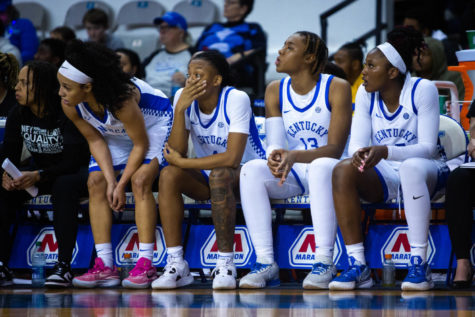 By the final buzzer Kentucky had made just eight of 18 free throws and shot 28% from the field. The shooting slump saw Kentucky put up just 40 points against the Bulldogs, which marked a new season low.
When the dust had settled it was a failure to hit shots and see free throws go down that caused Kentucky to drop its eleventh conference matchup this season.
With only three games left before the SEC tournament Kentucky is desperate to rediscover its offensive magic.
"When we get to the tournament it's basically 0-0 again so it's a new start," freshman Amiya Jenkins said.   
The Wildcats will go on the road for another SEC matchup in Nashville, Tennessee, on Sunday, Feb. 19, at 3 p.m. EST against Vanderbilt.  The game against the Commodores will air live on the SEC Network+.