Kentucky womens basketball falls to Georgia 50-40, suffers fourth consecutive loss
Kentucky womens basketball (10-15) was defeated by Georgia (18-9) 50-40 on Thursday night inside Memorial Coliseum.
The loss marked the Wildcat's fourth-consecutive loss since beating Missouri on Jan. 29.
Kentucky entered the matchup shorthanded with both of its leading scorers, Robyn Benton and Maddie Scherr, being ruled out for the matchup against the Bulldogs with injuries.
The game was tight during the first quarter, but Georgia would close out the period on a 9-4 run, giving it a 13-11 lead heading into the second quarter.
Both teams struggled to score points in the second quarter, quickly revealing that the game would be a low-scoring affair.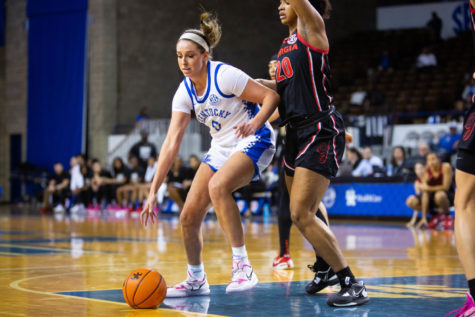 Georgia made just four of its 17 shots from the floor while Kentucky made just two of eight attempts from the field and turned the ball over eight times.
The Bulldogs would ultimately score just eight points during the second period while Kentucky only scored five, with Georgia taking a 21-16 lead going into the break.
Coming out of the half, the Wildcats were able to get within three points with the score at 24-21, but Georgia answered with an 11-0 run to take control of the game to go into the final quarter of play with a 38-23 advantage.  
Georgia would extend its lead to 15 points early in the fourth quarter, bringing the score to 40-25.
Kentucky was in no mood to go out without a fight though, with the Cats beginning to rally late.
The team would go on an 11-0 run in under five minutes to bring the score to 40-36 with 3:37 remaining in the game.
Unfortunately for Kyra Elzy's squad, that was the closest it would get to victory. 
Georgia forced a total of 22 turnovers with the Wildcats being held to a season low in points (40) and field goal percentage (28%), going just 14-50 from the field in the game. 
Alisha Lewis would lead all scorers with 13 points to push the Lady Bulldogs to their third consecutive victory. Kentucky, on the other hand, was led by Blair Green, who finished with 12 points on three made attempts from beyond the arc. 
Adebola Adeyeye also had respectable numbers on Thursday night, finishing with 11 points and shooting 3-6 from the field. Adeyeye also brought down 10 boards to lead all players in rebounding, which also highlighted the importance of the absence of both Scherr and Benton.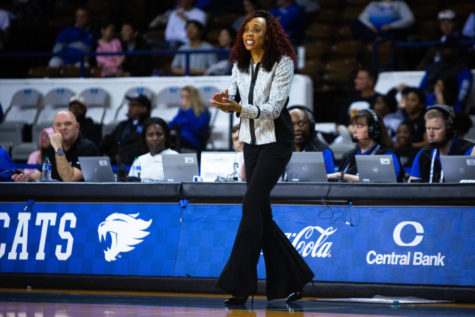 "I know they are definitely two key pieces of our team, so we really wanted to come out tonight and play for them and play for us," Adeyeye said. "We had to understand that while yes, they are gone, we are going to have to step up, and come into a different role and believe in each other, and just fill in that gap."
With just three games left in the regular season before the SEC Tournament begins in Greenville, South Carolina, things are starting to look grim for the Cats, but Elzy refused to give up on the season. 
"We're going to continue to fight, learn and grow. There's pride in this program. Obviously, the expectation is winning, which we are not doing now, but there's no quit," Elzy said. "We got to continue to fight, we got to press on and find a way to continue to scrap and see if we can get to the other side."
Kentucky returns to action on Sunday, Feb. 19, when it visits Nashville to face Vanderbilt. Tip-off is currently set for 3 p.m. EST and can be viewed live on the SEC Network+.