'Loophole in the law.' UK nationally ranked in number of Native American remains not returned to tribes
The University of Kentucky has over 4,000 Native American remains but has not made them available for return to their rightful tribe, according to ProPublica research published on Wednesday, Jan. 11.
The research, conducted by Ash Ngu and Andrea Suozzo, shows UK to be sixth on a list of institutions that have not made the remains available for return, with 4,504 remains in hand. UK is ranked behind Indiana University and ahead of the University of Tennessee at Knoxville.
ProPublica published a timeline for each institution showing the percentage of remains that have been returned since 1990. Results showed that 0% of remains held by UK have been returned.
"All of these institutions have used a loophole in the law that allows them to keep Native Americans remains if they deem them as 'culturally unidentifiable,' meaning they can't be culturally affiliated to a modern-day federally recognized tribe," Ngu and Suozzo said.
The ancestral remains and items are held at the William S. Webb Museum of Anthropology Research and Collections Facility, also home to the Office of State Archaeology. In a press release on Jan. 13th, UK said these facilities are in charge of various archeological tasks.
"(They are tasked with) issuing archeological site numbers and permits for archeological excavations and maintaining site records, and conducting archeological fieldwork, analysis of materials and preservation of cultural heritage," the release said.
The press release announced the College of Arts and Sciences, in collaboration with the Office of the Provost, will be investing $889,188 to contribute to the repatriation of the Native American and Native Hawaiian remains and cultural objects. The investment will allow for more staffing and resources to support the effort.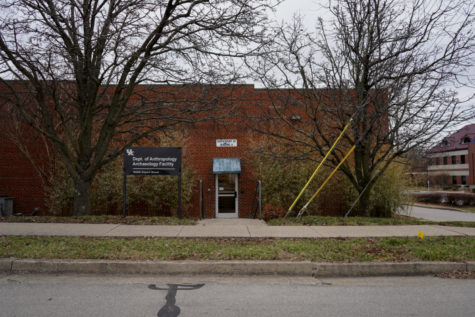 This investment is directed by UK Arts and Sciences Dean Ana Franco-Watkins. She is aiming to continue the university's work with the Native American Graves Protection and Repatriation Act (NAGPRA) program.
NAGPRA is a federal program. It provides guidelines for how ancestral items and remains must be treated.
UK spokesperson Jay Blanton told the Kernel in an email that Franco-Watkins is aware and sensitive to the issue based on her previous work efforts at another land-grant institution.
"As she became aware of the issue, and had more information, she started to work with our NAGPRA coordinator on a plan to begin to address it more substantively and sustainably," Blanton said.
The release said UK's NAGPRA coordinator, Celise Chilcote-Fricker, has put various initiatives into place over the past several years, such as implementing NAGPRA policies and procedures, a research moratorium and osteoarchaeology lab.
Blanton said significant changes have been made over the past several years, but their repatriation efforts won't show up immediately in NAGPRA's database.
Upon completion of their commitments, UK will have repatriated 15% of the remains from the William S. Webb Museum.
"Currently, National NAGPRA has in their inventory that we are holding 4,476 ancestors and 7,757 associated funerary belongings. Of this number:
1. 610 ancestors and 5,628 associated funerary objects have been culturally affiliated and are in the repatriation process.
2. A Notice of Inventory Completion has been submitted for 138 ancestors and their 2,412 associated funerary objects.
3. 82% of the ancestors were disinterred as the results of depression-era WPA (Works Progress Administration) excavations at 48 separate sites," Blanton told the Kernel.
The release said UK's NAGPRA program is communicating with Native partners about the process of the project.
"We are committed to repatriating all Native American ancestral remains and funerary belongings, sacred objects and objects of cultural patrimony to Native nations," Chilcote-Fricker said in the press release. "This investment will help make that commitment a reality."