Oscar Tshiebwe shines in Kentucky's win over Georgia
If there was any question regarding the resolve and determination of Oscar Tshiebwe, Tuesday night's performance showed why no one should write him off. 
The winner of the 2021 Wooden Award, Tshiebwe was a force on both the offensive and defensive end last season, averaging 17.4 points per game and 15.2 rebounds per game, but after struggling in the early games this year, Tshiebwe's dedication was called into question. 
Now, with hindsight, his lack of production may have stemmed from his offseason knee surgery and, despite missing a handful of preseason and early games, having featured in every game since the Champions Classic. 
Looking back to the present, Tuesday night's game against Georgia was a statement for the 6-foot-9 forward.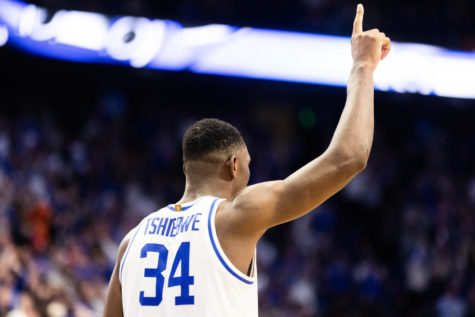 Being criticized by head coach John Calipari for slacking off in the gym prior to the game, Tshiebwe proved why he is the focal point of this Wildcats team and picked up a career-high 37 points that were complemented by 24 rebounds — the first time a Wildcat recorded 35 points and 20 rebounds since February 1976.
The big man was an unstoppable force that, at times, seemed to single-handedly lead the Cats to a second half comeback and defeat Georgia 85-71. 
Calipari was pleased with how Tshiebwe battled back after a handful of subpar games. 
"For the last two weeks, he and Adou (Thiero) have lived in the gym," Calipari said. "That's how you build your confidence, that's how you build your stamina. You know what I told him? Dunk every ball. Quit laying balls in. Jump up. But he had to get in the gym to be that way." 
Despite sporting an eyebrow-raising record of 12-6, including shocking losses against South Carolina at home and a blowout defeat against Alabama, Calipari felt that his squad just needed the right motivation to be the team he knew they could be. 
"I told them prior to the game, did you like the taste in your mouth 10 days ago or the one after Saturday? Well, then let's get that taste back in our mouth," Calipari said. "After the game, I said, 'When are you going to start believing what I'm telling you, because I believe in these guys. I really do.'" 
While Tshiebwe's stat line was impressive in its own right, what was potentially even more impressive was his development into a consistent free throw shooter. 
Last season Tshiebwe averaged 69% from the stripe, but his dedication to improving upon that number has shown, especially in the last four games. 
Since the defeat at Alabama, Tshiebwe has shot 25-34 from the line, averaging 73% and consistently capitalizing on his trips.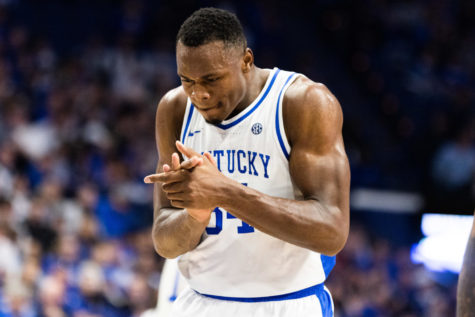 "It helped us a lot (making free throws). Free throws helped us in the game against Tennessee. If we were not making free throws, we had no chance to win," Tshiebwe said. "I like how the defense was playing. They just locked in and just tried to stop the ball. That's what everybody is now in the gym."
Tshiebwe's improvement over the last two weeks has impressed his teammates, notably guard duo Cason Wallace and Antonio Reeves. 
"He was a beast today, that is the Oscar (Tshiebwe) we have been waiting for," Reeves said. "He just went out and was the old Oscar. He rebounded, got put backs and dunked it. That is what we needed." 
Reeves, who is second on the team in points per game, is a consistent 3-point shooter and helps to spread the floor, which has likely contributed to Tshiebwe's many one-on-one looks he saw against Georgia. 
Wallace was also more than pleased to see Tshiebwe's dominant performance but knows that he never wants his individual performance to take away from team success. 
"I don't even think he knew. He's just team-oriented, he's not worried about himself," Wallace said. "He looked up and he was like 'dang, I'm doing pretty good', but I don't think he was trying to force it and chase those stats."
Without Tshiebwe's impressive performances it's hard to imagine the Wildcats would be in the position they are now, having won back-to-back conference games and seeming to be on an upward trajectory.
The team and Tshiebwe will have another opportunity to prove themselves on Saturday, Jan. 21, against the Texas A&M Aggies. Tipoff against the Aggies is currently scheduled for 2 p.m. EST and will air live on ESPN.