Across the (By)Line: Georgia Bulldogs basketball
The "Across the (By)Line" series will give Kentucky basketball fans an in-depth look at their opponent for this week — from the mind of the opposing school's sports editor.
This week: The Red and Black, Samuel Higgs, Georgia
This is the first year of Mike White in Georgia, how would you say year one is going so far expectations wise?
After the initial signing of Mike White, I can say that expectations were not very high, especially with Georgia only having one conference win last season. I personally expected improvement, but not where Georgia is now. White was able to use the transfer portal to almost completely revamp the roster as well as keep the talent already in the locker room with players like Kario Oquendo and Braelen Bridges. The additions of Terry Roberts, Mardrez McBride, Matthew-Alexander (M.A.) Moncrieffe and Justin Hill from teams that have had experience in the NCAA Tournament have proven to be beneficial.
Kentucky may have a hangover from its big win, do you think some people may be overlooking Georgia as a serious threat to knock off Kentucky?
When you only win one game in conference play the previous season, it is hard to be taken seriously. I believe that Georgia is still fighting the battle to be looked at as a legitimate threat in the SEC. I know that the players in Georgia's locker room are confident in their ability to go into Lexington and come away with another SEC victory, but Georgia has only played four true road games this season, so the players would need to tune out an excited fan base coming off a huge SEC victory and find a way to get in a groove early if they want to pull the upset.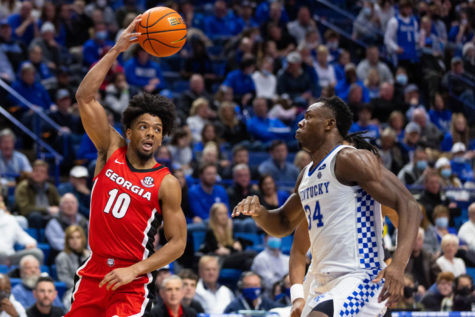 Who do you think will be the standout guy from Georgia against Kentucky?
It's hard to not go with the obvious answer of Terry Roberts, who is the Bulldogs' leading scorer this season. In the first two SEC games of the season Roberts came out and put up back-to-back stellar performances against two tough opponents. I really do believe that Roberts can go out and surprise a lot of people with how confident he is with the ball in his hands. It ultimately comes down to how effective he is scoring and if he starts getting into a consistent rhythm early it could be a bad day for the Wildcats. 
I do believe a potential dark horse candidate could be Kario Oquendo. He has been battling injuries and lackluster play. It wouldn't surprise me if he came in and made some huge dunks or any other flashy play that he has in his back pocket to silence some of his doubters.
What do you think is going to happen on Tuesday?
I think it is going to be an extremely tough game for the Bulldogs as they have yet to learn how to get things going in enemy territory. They are going to have to play some of their best basketball of the season if they hope to obtain another road victory in SEC play. The Bulldogs are pretty solid when it comes to how they start a game, but they just need to figure out how they can end a game. It is hard for me to pick a winner because as much as I want to see the Bulldogs go into Lexington and pull off the upset, I don't see it happening as they still have things they have yet to figure out. I think the moment is too perfect for Kentucky to ruin the chance against a team like Georgia when you go out and beat Tennessee the game prior.