Three takeaways from Kentucky's win over No. 5 Tennessee
Kentucky mens basketball and head coach John Calipari earned its first win over a ranked opponent on Saturday, defeating No. 5 Tennessee 63-56 in Knoxville. 
Not only was the win inside Thompson-Boling Arena the first ranked win of the season for the Wildcats, it was also the first true road game victory. 
With the amount of negativity that surrounded the Cats after the South Carolina loss, the triumph in Knoxville not only serves as a reset button for a season, but also gives more insight into where the team is at by answering several questions that still remained for this squad. 
Here are three takeaways from Kentucky's win over Tennessee. 
Calipari has found his lineup moving forward
With Sahvir Wheeler and Daimion Collins out for Saturday's matchup, Calipari was forced into a position that many fans had been hoping to see him in, starting Jacob Toppin, CJ Fredrick, Chris Livingston, Cason Wallace and Oscar Tshiebwe for the first time this year.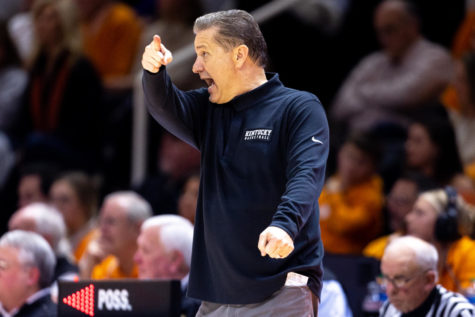 Calipari then made the decision to replace Livingston with Antonio Reeves after the Volunteers started the game with an 8-0 run and, after this decision, the Cats were able to go on to take the lead. From there the game was competitive until the very end with Kentucky eventually pulling away late with free throws.
The combination of Reeves, Fredrick, Toppin, Wallace and Tshiebwe outscored Tennessee 29-11 when it was on the court, including outscoring the Vols 14-3 in the first half to help Kentucky enter the break with a 33-26 lead.
The same group would then outscore Rick Barnes' squad 15-8 in the second half to ensure the much-needed victory. 
With this lineup previously only playing for 20 offensive possessions all year, it was twice as efficient as any other lineup in those possessions, showing that maybe this should be Calipari's default lineup moving forward on the season. 
Adou Thiero can make a difference of the bench
Despite playing for only 13 minutes on Saturday, Thiero proved to both coach Calipari and his teammates that he can be someone this squad can lean on when needed. 
With four points, which were his first against a ranked opponent, and two important steals, Thiero showed that, despite not having a lot of quality minutes this season, he can still make a difference against the No. 5 team in the country.
After not playing a single minute against South Carolina, Thiero was able to provide a spark that his team needed, showing that, despite being someone who plays with a bit of recklessness, he has heart and can elevate his teammates around him.
The team is still fighting for Calipari
Kentucky basketball has had better weeks than those leading up to the matchup in Knoxville. 
After the disappointing loss to South Carolina and noise about Calipari's future, it would have been easy for the Wildcats to fold and give up against the Vols.
Instead, the Cats did the complete opposite. 
There was a sense of urgency about Kentucky on Saturday that this team has not seemed to have so far this season.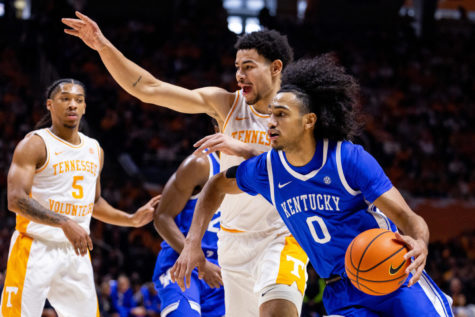 Whether it be visible support for each other on the floor, on the bench or otherwise, there was definitely a difference in the attitude of the Wildcats on Saturday.
"I think we grew up after the loss against South Carolina," Toppin said after the game. "Obviously this is a big step moving forward, but we have to continue to get better every day. There's a lot of people who were saying that we're canceled, we're not good enough, we're this, we're that, but after this there's going to be a lot of people flipping the script now and saying we're good, so we just got to stay away from that and just stay connected like we have been through the ups and downs and just get keep fighting."
It was clear that this team is unified, despite many thinking the opposite heading into the matchup.
"We're gonna worry about this team," Toppin said. "Everyone counted us out. We're just going to prove everybody wrong like we did tonight. We're going to continue to do that and keep staying together."
With the win on Saturday, a sense of relief and rebirth has taken hold of Kentucky. 
The Cats had stumbled in every major matchup prior to the one in Tennessee, but with a big win under their belt, it's safe to say they truly control their own destiny heading forward.