CJ Fredrick and Adou Thiero reflect on Tennessee win
Kentucky men's basketball players CJ Fredrick and Adou Thiero reflected on Saturday's win over No. 5 Tennessee and their mindsets going forward on Monday.
Fredrick scored three of the team's five 3-point baskets in the win while Thiero did not miss any of his four free throws on Saturday, scoring his first points against a ranked opponent all season.
The win against the Volunteers was huge for both the players and coaches, as the team had been struggling following the streak-snapping home loss against South Carolina.
"It's been tough just because we want to win so bad in that aspect," Fredrick said. "But we understand that that's part of the game. You're gonna have slumps. But we were able to come together."
Fredrick also briefly touched on how Oscar Tshiebwe's "fight" mentality positively affected the team during the Tennessee game.
"It means a lot," he said. "I think Tennessee saw a different kind of fight. And I think we've got to build on that and continue that into Georgia and the rest of the season."
Thiero spoke on his nerves going into the game due to the pressure being placed upon him as a freshman being played in a major road game.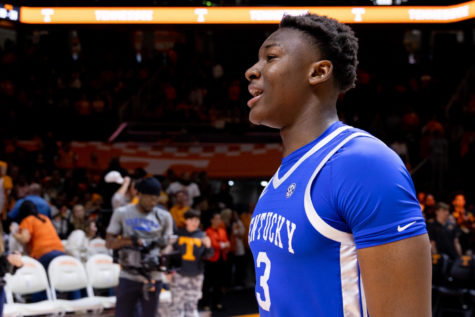 Despite that, Thiero said that he was able to play at his best after the coaches told him to stay focused and be calm despite the fact that the game was sure to get out of control.
"I think after I turned the ball over and got the steal – I think that's when I realized, okay, it's just about the game, really, nothing to be nervous about. I went out and just played," Thiero said.
Fredrick's leadership on the court against the Volunteers was noticed and appreciated by Thiero.
"(When we're) on the court he's talking," Thiero said. "If it's not his man, he's still talking to you. After my first turnover, he was telling me, 'You're good, you're good. Just calm down and stay focused, you'll be fine.' I really needed that. That was his spirit."
Fredrick also took the time to compliment Thiero as well.
"Adou was great," Fredrick said. "You know, (he's) a freshman going in a tough road game. I think he made all of his free throws and he played really good defense, and he just swung the ball."
Now turning its sights toward the Tuesday night matchup against Georgia, the players are hoping to carry the team's momentum and return to their winning ways at home.
"They're a really good team," Fredrick said about Georgia. "They have really good guards, good bigs, they run a good offense. We're gonna have to do a good job today of locking in and understanding the game plan for tomorrow."
Kentucky is set to tipoff against Georgia on Tuesday, Jan. 17, at 9 p.m. EST inside Rupp Arena. The game will air live on ESPN.