Kentucky club hockey swept the ACC Showcase in Louisville, Kentucky, from October 20-22, adding three wins to the season total.
The Cats first faced off against Virginia Tech on Friday, Oct. 20, at the Iceland Sports Complex.
Neither team would be able to get on the board in the first period, but it would be assistant captain Tim Burke who would score the first goal of the weekend in the second period.
The Hokies tied it up but a strong power play saw UK enter the final period up 2-1.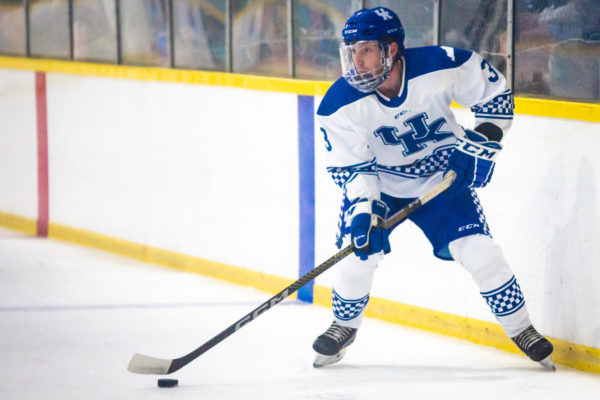 Junior winger Daniel Quartapella added a third Wildcat goal in the third period for what would ultimately be the final of the night for the blue and white.
The Hokies managed to get one back but it would be for not as Kentucky secured the 3-2 victory and started the event 1-0.
The win was a special one for head coach Tim Pergram as it marked the 100th of his career.
Taking the ice again on Saturday, Kentucky found itself paired up with the North Carolina State Wolfpack.
The Cats once again got on the board first against NC State, going up 2-0 before the Wolfpack managed to power back and tie the game 2-2.
Freshman Nick Delaney then gave the Cats the advantage once again on a power play, signifying the strength of the Wildcat attack when given the numbers advantage.
Up 3-2 to start the second period, Kentucky waited 53 seconds before extending its lead to 4-2.
Quartapella then extended the lead once again with a solo goal on a fast break before sophomore Collin Costello truly put the game out of reach.
Quartapella added another for good measure before NC State ended its scoring drought to enter the third period trailing 7-3.
One final goal in the third period saw Kentucky earn a commanding 8-3 victory to improve to 2-0 on the weekend.
Multiple Wildcats had strong showings in the game including Quartapella, who notched two goals and two assists, center Cameron Chabot, who notched one goal and four assists, and captain Gabe D'Amico, who totaled one goal and two assists.
Now with two wins under its belt, Kentucky had one final game in the ACC Showcase: a matchup against North Carolina.
Continuing the pattern depicted in the two prior games, Kentucky got on the board first and, similar to the NC State game, added a second for good measure. The Cats took the 2-0 advantage into the first intermission.
Burke added a third Kentucky goal in the second, which stood as the only goal in the period.
Up 3-0 in the final period, one final Kentucky goal would bring the 4-0 final, a strong shutout for goalkeeper Arley Cutler, and see the Cats leave the ACC Showcase perfect on the weekend.
With the wins Kentucky will prepare for a two-game road stint at Indiana from Oct. 27-28.