Kentucky club hockey (2-3) lost the Battle of the Bourbon 2-1 to the University of Louisville on Friday night.
Despite an energetic start and a full, excited crowd, the first period ended in a tie with zero points scored for either team.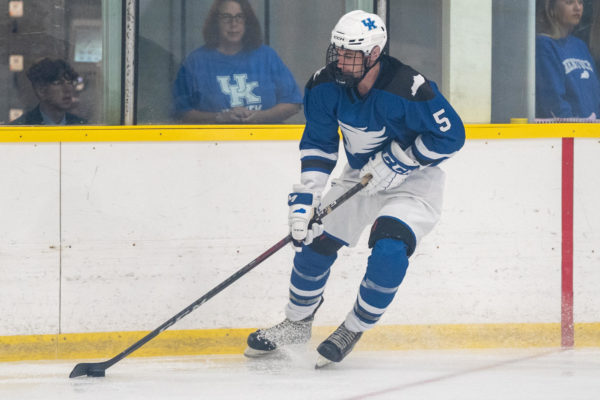 The game picked up when both teams took penalties in the second period, but the Cardinals took the chance to score on the power play and lead the game by one point.
This was followed by two more penalties by Louisville and one more by Kentucky, resulting in a four-on-four play near the end of the second period.
Louisville scored once more to double its lead in the third period.
Sophomore Collin Costello scored for the Wildcats in the third period as well, but they ultimately could not close the gap and catch up to the Cardinals.
Despite the loss, Kentucky won a two-game series against Louisville in January. The pair's next matchup is scheduled for next January on the 19th and 20th.
They play first at 8 p.m. ET in the Iceland Sports Complex in Louisville, then head to Lexington at midnight in the Lexington Ice & Recreation Center.
In the meantime, Kentucky's next game is Friday, Oct. 6, versus Miami University in Oxford, Ohio. The next home game will be against the University of Dayton on Saturday, Oct. 7, at midnight ET.