Kentucky's club hockey team earned itself a bounce-back win over Miami (OH) on Sunday, winning 3-2 in overtime.
The Wildcats started off slow as the RedHawks controlled the puck most of the first period and took an early 1-0 lead.
Kentucky started off the second period on a power play and took advantage with a goal from captain Gabe D'Amico to tie things up at one.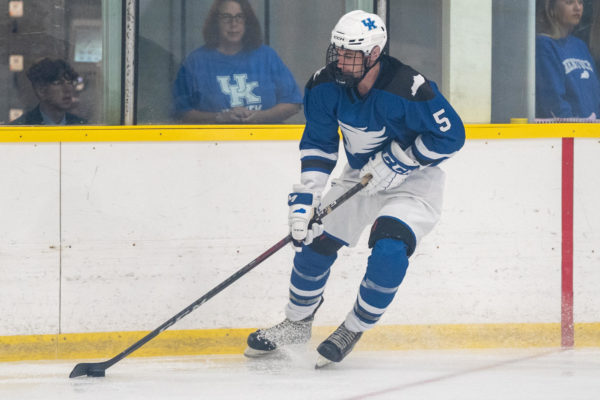 The goal gave Kentucky some much-needed momentum with the Cats taking the lead just five minutes after tying it with a goal by Kyle Mead.
The rest of the second period saw both goalies play some of their best hockey, stopping any and all attempts from either attack to score.
In the third period, Miami (OH) tied things up at 2-2 early. Both teams had opportunities to score late in the game, but neither could put the puck in the net, leading to the overtime period.
In said overtime it was Connor Underwood who gave Kentucky the lead with what would prove to be the final goal of the night.
In a low scoring affair, both teams struggled on the power play with Kentucky finishing 1-7 on power plays while Miami (OH) was 0-4.
While Underwood may have had the theatrics, it was Kentucky goalie Riley Allen which likely won the game for the Cats, stifling any and all RedHawk chances.
Allen contributed his performance to the team overall and how it prepared at practice.
"The focus in practice was special teams work and as you can tell it really paid off for us," he said. 
Kentucky will next see action against Virginia Tech in the ACC Showcase Oct. 20.