Kentucky men's basketball announced a four-year contract with Indiana on Tuesday, continuing one of the most storied rivalries in all of college basketball.
The contract lays out four matchups stretching from 2025 through 2028, with game one set for Dec. 20, 2025, marking the Hoosiers' first game inside Rupp Arena since Dec. 11, 2010.
"It's great to renew this series," Kentucky Athletic Director Mitch Barnhart told UK Athletics. "(Kentucky and Indiana) is among the most competitive rivalries and storied traditions of college basketball."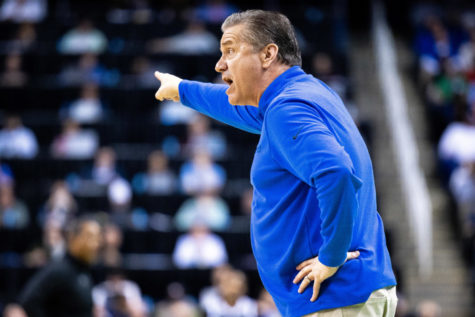 Indiana Athletic Director Scott Dolson plans to take the second matchup off campus, with game two being hosted inside Lucas Oil Stadium on Dec. 27, 2026.
Dolson said he hopes that the venue change from Simon Skjodt Assembly Hall to Lucas Oil Stadium will allow more IU fans to experience one of the greatest rivalries in collegiate hoops.
"When you consider the history, the passion and the proximity of our schools, this is a game that means so much to so many people," Dolson told UK Athletics. "I appreciate Mitch Barnhart's willingness to work together to resume what I believe to be college basketball's best rivalry."
Matchup number three will return to the Bluegrass for the 2027-2028 season, with the Hoosiers returning to Rupp Arena on Dec. 18, 2027.
The teams will round out the four-game contract in Bloomington, Indiana, as the Wildcats will make their first appearance in Simon Skjodt Assembly Hall since losing to Indiana 73-72 after a buzzer beater from then Indiana junior Christian Watford.
While at times tension between the teams can be tight, the continuation of the rivalry may have come from a friendship between the program's leaders.
"This emanated from Coach (John) Cal(ipari) and Coach (Mike) Woodson getting together and talking about playing again," Barnhart told UK Athletics.
Both Calipari and Woodson said that rebooting this rivalry had been on their radar for quite some time, with the announcement being a huge milestone for both programs.
"This is a great day for our program and our fans," Woodson told UK Athletics. "We worked very hard to get this done and I could not be happier to be playing Kentucky once again."
Calipari shared Woodson's enthusiasm, saying he anticipates a great matchup with the Hoosiers.
"This is a really important rivalry to our fans and the game of college basketball and we're happy to bring it back," Calipari told UK Athletics. "Mike and I have been friends for years and I have the utmost respect for him as a coach and a man. Let's do this!"