Kentucky men's basketball was crowned 2023 GLOBL JAM gold medalists in Toronto, Ontario, Canada on Sunday, defeating the Canadian National Team in the championship.
The Wildcats, representing the United States as a whole, started off the tournament against the German National Team.
Kentucky utilized its 2023-24 roster including five-star freshmen such as DJ Wagner and Robert Dillingham, though five-star center Aaron Bradshaw missed the event with an injury.
Things seemed to get worse for the Cats when returning big man Ugonna Onyenso seemingly went down with an injury in practice, putting UK's chances in further jeopardy.
Despite that, the Wildcats prevailed in game one against the Germans, winning 81-73 on July 12.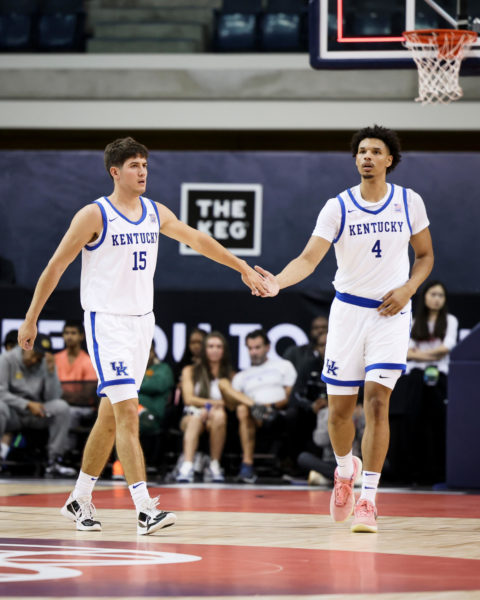 Returning veteran Antonio Reeves led the Cats with 24 points while incoming transfer Tre Mitchell followed closely behind with 20, going 7-13 from the field and 4-6 from beyond the arc.
Freshman DJ Wagner also finished with a double digit point total with 16 points.
In the second game of the tournament Kentucky faced the Canadians, winning by a comfortable 24 points with a 93-69 final score.
Reeves once again led the Cats, this time with 23 points, while Justin Edwards and Adou Thiero also notched 16 and 11 respectively.
In the final match before the championship Kentucky faced Team Africa Select, which it defeated 104-92.
Reeves dropped 27 points in the affair, with four other Cats also scoring in double figures. Kentucky's own Reed Sheppard and Wagner both scored 18 while Edwards and Mitchell amassed 15 and 12 respectively.
Finally, in the gold medal game on Sunday the Cats once again prevailed over Canada, this time 89-72. Canada took home the silver while Germany claimed bronze in the tournament.
For the first time in the tournament Kentucky wasn't led by Reeves, with Edwards dropping 23 to be the gold medal winners' leading scorer in the game. Edwards was followed by Reeves (18), Mitchell (18) and Wagner (13).
Amassing a staggering total of 92 points and leading the Cats in scoring three times, Reeves was named the tournament's Most Valuable Player.
Other impressive cumulative totals included Mitchell (58), Edwards (58), Wagner (56) and Sheppard (34).
With the gold medals in hand Kentucky will return home to Lexington to prepare for the 2023-24 season.