The Kentucky Wildcats men's basketball team released its non-conference schedule for the 2023-24 season.
While Kentucky was eliminated in the Round of 32 of the NCAA Tournament last season, its 2023-24 roster is almost completely different from last years.
Seven players returned to the program but eight departed to other schools and the NBA.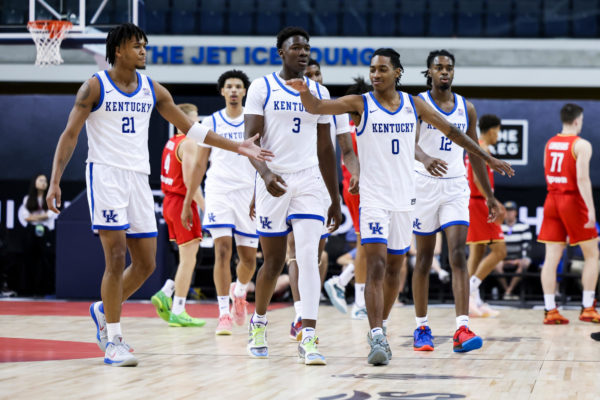 The Cats have eight incoming freshmen this season, three of which are five-star recruits according to 247sports.
The three five-stars, Justin Edwards (nationally ranked No .3), Aaron Bradshaw (nationally ranked No. 5) and D.J Wagner (nationally ranked No. 6) are the highlighted names touching down in Lexington this year.
Bradshaw and Wagner are coming down to Kentucky together from New Jersey, where they played high school basketball for the Camden Panthers, so there is some immediate chemistry.
Head coach John Calipari was also able to grab two four-star freshmen in Kentucky's very own Reed Sheppard and Rob Dillingham from Overtime Elite.
Joey Hart and Jordan Burks (both three-stars) highlight some more depth coming in this year along with unranked Zvonimir Ivisic, who is 7 feet, 1-inch tall and a very mobile big man from Croatia.
Another point worth noting is that this new roster already got some games together when it competed in the GloblJam Tournament in Canada this July.
The Cats won all four games and took home the gold medal, defeating Germany, Africa and Canada twice, once in group play and once in the gold medal game. 
With those changes in mind there are many questions surrounding how these young guns will shape up against their opponents.
Nov. 6 vs. New Mexico State – Home
The Cats welcome their first opponent on Nov. 6 at Rupp Arena when they face the New Mexico State Aggies.
Although Kentucky has an advantage due to their recent play in GloblJam, expect the Cats to be a little slow at the start as they have not played a competitive game together since July.
This game marks the first of the season for the Aggies as well so expect them to be a little sloppy.
Keep in mind that New Mexico State finished 9-15 last season, but was not able to compete in its six remaining games and conference tournament due to hazing and sexual assault allegations which cancelled the remainder of the season.
Suffice to say, it has been a while since the Aggies have seen the court in a competitive environment.
Kentucky will play through its rustiness and take advantage of New Mexico State's, reaching an opening game victory.
Winner prediction: Kentucky
Nov. 10 vs. Texas A&M Commerce – Home
After coming off of a first game win, Kentucky should roll through Texas A&M Commerce and improve to 2-0.
Last year, the Lions finished with an overall record of 13-20 and lost in the first round of the Southland Conference tournament to the No. 8 seeded McNeese Cowboys.
Kentucky will take advantage of the Lions in all aspects of the game and dominate.
Winner prediction: Kentucky 
Nov. 14 vs. Kansas – Neutral Location (State Farm Classic)
The first big test  for Kentucky.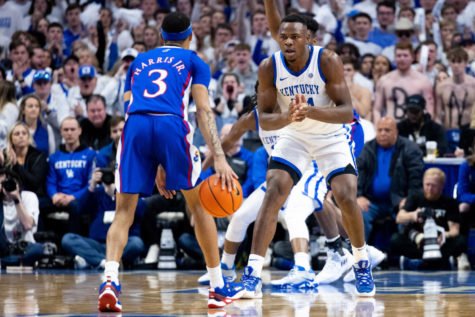 Last season the Jayhawks finished 28-8 and 13-5 in Big 12 conference play.
Kansas made a deep run in the Big 12 conference tournament, winning its first two games and then losing to Texas in the championship.
In the NCAA tournament, the Jayhawks were eliminated in the Round of 32 after losing to Eric Musselman and the Arkansas Razorbacks by one point. 
This year's Kansas team is welcoming four five-star freshmen along with recent transfer portal pickup Hunter Dickinson.
Dickinson is a 7-foot, 2 inch center from Michigan who transferred at the conclusion of last season after the Wolverines failed to qualify for the NCAA tournament. 
The Virginia native averaged 18.5 points per game and nine rebounds last season with the Wolverines, so expect him to give Ivisic, Bradshaw and Ugonna Onyenso a run for their money on the boards. 
Despite Dickinson, along with the four five-stars, matching up against the Wildcats, Kentucky's big men could still dominate and help the Cats improve to 3-0 by beating the Jayhawks.
Winner prediction: Kentucky
Nov. 17 vs Stonehill – Home
The Stonehill Skyhawks finished 14-17 overall last season and 10-6 in conference play.
While competing in the Northeast Conference last season the Skyhawks had two dates with the eventual main characters of a major Cinderella story, the Fairleigh Dickinson Knights. 
After dropping its first game to the Knights 65-57, Stonehill got them the second time around, winning 70-59 on the road on Jan. 22.
Fairleigh Dickinson then went on to knock out Zach Edey and the No. 1 seeded Purdue Boilermakers in the first round of the 2023 NCAA Tournament last season, so a win likely seemed to be huge in the Skyhawks' eyes.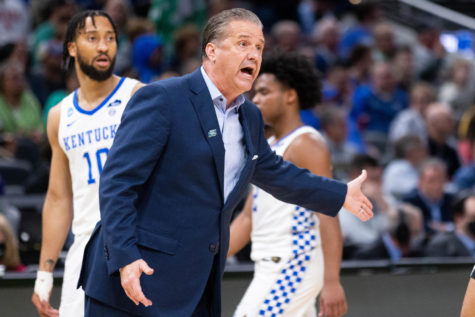 Unfortunately for Kentucky fans, the Wildcats don't have the best recent track record against smaller schools in the eastern half of the United States.
After a crushing defeat to the No. 15 seeded Saint Peter's Peacocks in the 2022 NCAA tournament, many are more hesitant to overlook opponents such as Stonehill.
But, as is the nature of college athletics, players come and go and new players like Wagner, Edwards and Bradshaw arrive and give teams a whole new identity.
Winner prediction: Kentucky
Nov. 20 vs. Saint Joseph's – Home
The Saint Joseph's Hawks finished 16-17 last season and ninth overall in the Atlantic 10 Conference.
Coming into the game, the Hawks will have played four already, two of them also being against Stonehill and Texas A&M Commerce.
If the cards fall as they're expected to, the Wildcats will once again roll over Saint Joseph's and improve to 5-0 in non-conference play.
Winner prediction: Kentucky
Nov. 24 vs. Marshall – Home
This game tip's off just four days before Kentucky takes on the Miami Hurricanes, a team that made a Final Four run last season. With that in mind, it'll be pivotal that the Cats do not overlook this Marshall team.
Last season Marshall finished 24-8 overall and 13-5 in the Sun Belt Conference.
The Herd earned the No. 3 seed in the Sun Belt Conference tournament and squared off against No. 11 Texas State in the first round, where it lost by three points.
While fate had other plans, the Herd could have easily made a push towards the NCAA tournament had it advanced further in its conference tournament.
Marshall's leading point scorer, Taevion Kinsey, has departed and went to the NBA, which will be convenient for Kentucky as Kinsey averaged 22.1 points per game.
Regardless, the matchup against Marshall may be a bigger uphill battle for the Cats than many anticipate.
Despite that, Kentucky has the better team, so, assuming it doesn't fall into a trap game scenario, it should be able to dispatch Marshall.
Winner prediction: Kentucky
Nov. 28 vs. Miami – Home
The Miami Hurricanes are entering the 2023-24 season confident as can be after reaching the Final Four last season.
Nigel Pack, who averaged 13.6 points per game, Norchad Omier, who averaged 13.1 points, and Wooga Poplar, who averaged 8.4 points per game, are all making a return for the Hurricanes this year.
With the veteran leadership and the deep experience these players have, it's hard to bet against the Hurricanes giving Kentucky its first loss of the season.
Winner prediction: Miami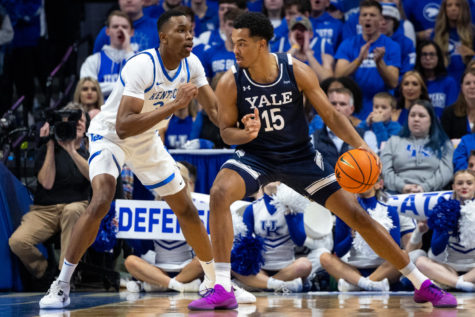 Dec. 2 vs. UNC-Wilmington – Home
UNC-Wilmington finished 24-10 last season and fell six points short of an automatic NCAA tournament bid.
In the Colonial Athletic Conference Tournament finals the Seahawks lost to the Charleston Cougars, who were boasting a 31-3 record at the time and the No. 2 seed in the tournament.
The Seahawks have put up a solid record the past two years, so it's easy to expect them to do so once more.
When UNC-Wilmington rolls into Rupp fans should expect a good fight out of them.
They may even give Kentucky a scare, but Kentucky is still easily the better team.
Winner prediction: Kentucky
Dec. 9 vs. Pennsylvania – Neutral Location
While Penn is another opponent that may not appear threatening on paper, every experienced college basketball fan knows not to sleep on an Ivy League school in basketball.
The Ivy League is competitive every year and has been known to have teams make phenomenal runs in the past.
Despite that, this year's Quakers team is unlikely to be one of those teams to make a run. They may win some games they shouldn't but it's unlikely Kentucky will be one of them.
Winner prediction: Kentucky
Dec. 16 vs. North Carolina – Neutral Location
A famous "Blue Blood" showdown returns to Atlanta, Georgia, this year with Armando Bacot and the Tar Heels looking to draw out another good season.
The Tar Heels did not make the NCAA tournament last season, however they did make a National Championship run the year prior, coming up short to Kansas in the final.
Bacot, who is coming off of his fourth season in Chapel Hill, received a spot on the all-ACC honors list at the conclusion of last year's campaign, but he will likely be wanting more as he is coming back for a fifth and final season.
Regardless of Bacot's wants, Kentucky has all the pieces to outplay him and this year's North Carolina team, winning and improving to 10-1 on the year.
Winner prediction – Kentucky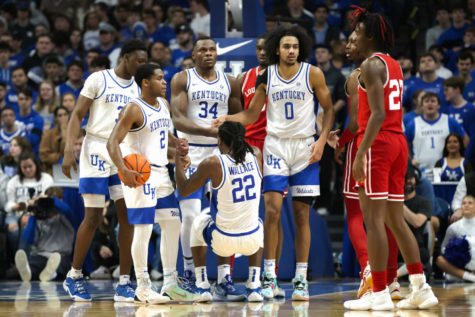 Dec. 21 vs. Louisville – Away
The Wildcats square off against their in-state rival on Dec. 21 at the KFC Yum Center in Louisville, Kentucky.
Last year's Louisville team was, well… 4-28 overall.
Despite that, the Cardinals were in the running for Kentucky's Wagner in the recruiting race up until Kentucky head coach John Calipari ultimately won him over and brought him to Lexington.
Losing out on Wagner was a critical blow and, while they may be better than a four-win team, Louisville likely isn't entering the 2023-24 season with major expectations.
Winner prediction – Kentucky 
Dec. 29 vs. Illinois State – Home
The Illinois State Redbirds completed their 2022-23 season with an 11-21 record.
This is Kentucky guard Antonio Reeve's former team as the sharp-shooter played there from the 2019-20 season up until the conclusion of the 2021-22 season.
Regardless, the Redbirds aren't looking to have transitioned into a better team, not enough to beat Kentucky anyway. 
Kentucky should handle this game easily.
Winner prediction – Kentucky
Feb. 10 vs. Gonzaga – Home
Last but not least the Gonzaga Bulldogs make their trip east to Lexington to play game two out of a six-game series the two programs agreed on back in October of 2022.
The two agreed to play each other once every season for the next six years.
The first game tipped-off last season and Gonzaga won 88-72 at a neutral site in Washington.
Since then the Bulldogs have gained two huge transfers in Ryan Nembhard from Creighton and Marcus Adams Jr. from Kansas.
Unfortunately for Kentucky fans, Gonzaga is one that may simply get the best of them in their final non-conference game of the year.
Winner prediction: Gonzaga
Final Predictions
Tallying up the winner predictions, if things go as expected Kentucky will finish the year with an 11-2 record outside of conference play with several NCAA Tournament resume building opportunities throughout.
The Wildcats kick off their season on Monday, November 6, inside Rupp Arena against the New Mexico State Aggies. A tipoff time and airing location are TBD.