Kentucky football (2-0) defeated FCS opponent Eastern Kentucky 28-17 at Kroger Field on Saturday, improving to 2-0 on the season.
The Wildcat win came in spite of the team's poor first half of play, with the game displaying a score of 7-7 at the halftime break.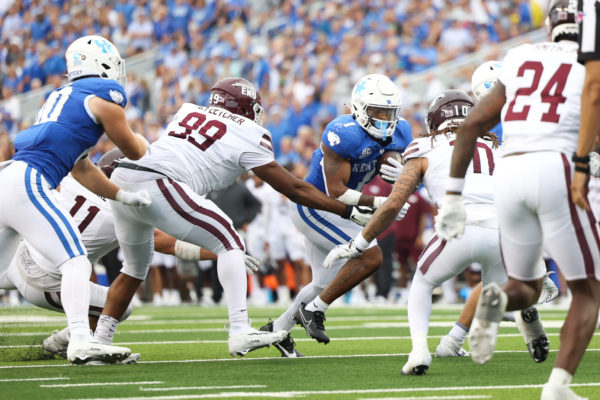 Things got off to a disastrous start for Mark Stoops' troops when, after EKU deferred the opening possession, the Cats were forced to punt. The punt attempt was promptly blocked by the Colonels, who kicked off their first drive of the game on UK's 30-yard line.
With points all but handed to them, the Colonels scored first when quarterback Parker McKinney took it himself with a 14-yard scramble touchdown.
"(McKinney) is an All-American, I mean the guy's a good player," Stoops said. "He does a great job when you're in his face and there's concepts and things that are challenging for us that we work but there's so many different calls. There's things (EKU) does that are good and that's one of the reasons they've had such good seasons."
Things wouldn't improve much for the Cats in the first when a 12-yard sack on Devin Leary forced UK to punt for the second time, though this time it was able to get the ball off.
Kentucky seemed to catch a break early in the second quarter when it recovered an EKU fumble on the visitor's 24-yard line.
Miraculously, Kentucky managed to fail to score on the drive as well when a Leary pass was intercepted by the Colonel defense.
Regardless, the Cats continued to fight and eventually found their break right before halftime when Barion Brown returned a punt 36 yards to the EKU 24-yard line.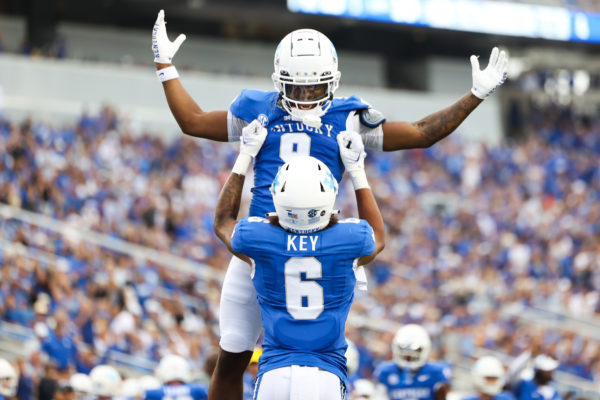 In a similar situation to the Colonels early, with points seemingly all but guaranteed, Leary found veteran wide receiver Tayvion Robinson in the endzone to enter the break tied.
"We know we will get better," Stoops said. "I thought we left some plays on the field and (EKU) did a lot of good things as well. A lot to work off of, it's a lot better to go to work 2-0 so we'll get some more things fixed."
The visitors would retake the lead in the third quarter with a field goal, but two Kentucky touchdowns, both by Leary with one going to Robinson and the other to Brown, would see the Cats finally take the lead.
"It felt good getting our team on the board and helping us win the game," Robinson said. "I just keep doing my job and doing what coach tells us. I feel like each week we get better (chemistry) and feel more comfortable as a unit. I think this week we'll practice hard and go out there better next Saturday."
The Colonels would record one final touchdown of their own to get back within four points but the home side would score once again, this time on a pass from Leary to running back Ray Davis, for the 28-17 final.
With an ugly win secured the Wildcats will turn their sights to their final opponent before beginning SEC play in the form of the Akron Zips. Kentucky and Akron are scheduled to duke it out at 7:30 p.m. ET on Saturday, Sept. 16, from Kroger Field in Lexington, Ky.