This college football season, the Kentucky Wildcats have a new signal caller under center after two seasons of Will Levis at the helm.
Levis was beloved by Big Blue Nation and is recognized as one of the college's greatest quarterbacks in recent memory. This culminated in Levis being selected in the second round of the 2023 NFL Draft by the Tennessee Titans in April.
As such, the 2023 season begins a new era in Lexington.
Former NC State quarterback Devin Leary was picked up via the transfer portal. Interestingly, Leary was widely regarded as the best quarterback in the portal despite only playing six games last season due to a season-ending shoulder injury against Florida State.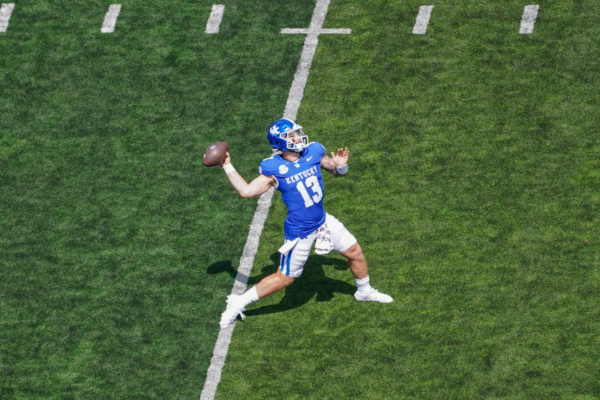 In those six games Leary impressed, completing 61.1% of his passes for 1,265 yards, and 14 total touchdowns to four interceptions. He led the Wolfpack to a 5-1 record to begin their season.
Despite the strong start, Leary was instead highly coveted because of his 2021 campaign. In 12 games played, Leary completed 65.6% of his passes for 35 passing touchdowns and five interceptions, boasting a near-perfect 157.0 passer rating.
That season, Leary charged NC State to upset #9 Clemson 27-21, throwing for 22 completions, 238 yards and four touchdowns.
The New Jersey native is expected to bounce back in 2023 for the Cats, but the task ahead won't be easy due to the heavily competitive nature of the Southeastern Conference.
Kentucky also made a change at the offensive coordinator position for the third consecutive season. In 2022 Rich Scangarello replaced the previous offensive coordinator, Liam Coen, and, after one season, was fired due to the disappointing nature of the offense that year.
Head coach Mark Stoops reached out and rehired Coen for 2023 after the latter spent one season with the Los Angeles Rams, serving as the offensive coordinator under head coach Sean McVay.
Within Coen's scheme Levis had excelled in 2021, leading the Cats to a 10-3 season. Bear in mind Levis was a transfer student from Penn State like Leary.
Naturally, this rekindled some excitement within Big Blue Nation by combining Coen with Leary ahead of the upcoming 2023 season.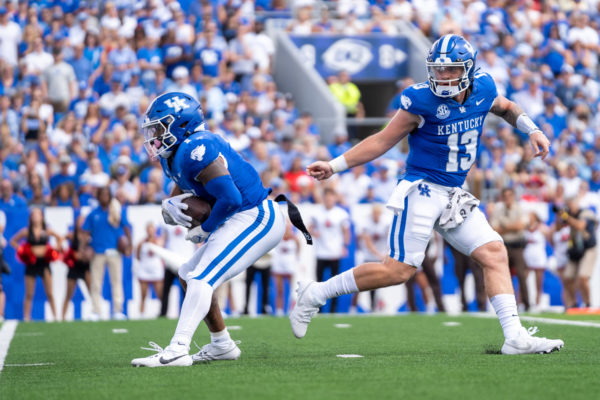 On Saturday, in Kentucky's season opener against Ball State, Leary made his big blue debut at Kroger Field, completing 18 of 31 pass attempts for 241 yards, a touchdown and an interception, which saw him surpass the 7,000 career passing yards mark.
The Kentucky offense struggled early and found itself down 7-3 entering the second quarter before pushing back thanks to a stout defensive performance and a pair of touchdowns by running back Ray Davis, a transfer from Vanderbilt.
Overall Leary connected with wideout Dane Key five times for 96 yards, topping it off with a five-yard touchdown to make it 30-7 in the fourth.
While there were several miscues throughout the game for the Cats' offense, Kentucky's offensive line appeared to be much improved, as the "big blue wall" only allowed one sack, a step up from the 47 allowed last year.
Leary and company have plenty of adjustments to be made, but once the offense got going there were several flashes that'll produce optimism for the Wildcats' offensive in 2023.
Kentucky's next game will see it face off against the Eastern Kentucky Colonels on Saturday, Sept. 9. Kickoff is at 3 p.m. ET and will be streamed live on SEC Network.