Kentucky STUNT finishes regular season with 0-3 showing in Cal Baptist Tournament
Kentucky STUNT wrapped up its regular season on Saturday, finishing the 2023 Cal Baptist Tournament 0-3 to finish the year 3-12 overall.
Starting things off against Hope International on Friday, Kentucky started the day slow, surrendering a 3-1 lead by the end of the first quarter. Things would then get even worse for the Cats, who entered halftime down 7-3.
Despite that, Kentucky continued fighting, narrowing the gap after the third quarter, entering the fourth quarter trailing 8-5.
The Wildcats outscored the Royals 8-7 in the final period, but the score was not enough to claim the victory, with Kentucky falling 15-13 in game one.
Returning to the competition area for the second game on Friday, Kentucky prepared to duel Cal Poly.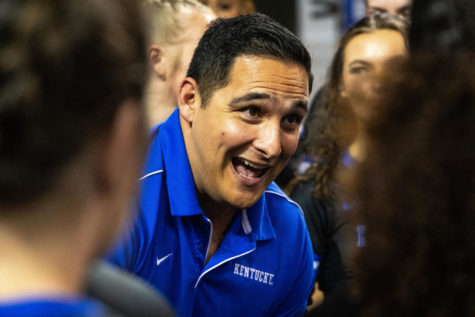 Flipping the script, Kentucky finished the first quarter with a hot start for a 3-1 lead, but a stumble in the second quarter saw both teams enter the halfway point tied 5-5.
The Mustangs took the lead in the third quarter, entering the final period with a 8-7 lead, and, while Kentucky would tie the game at 15-15, Cal Poly took the final point to claim a 16-15 victory.
Entering its final regular season match of the year, Kentucky was put up against Arizona State, which had previously beaten the Cats 19-10 on Feb. 17 in the Dallas Baptist Tournament.
The matchup meant that the Cats would kick off their regular season with the Sun Devils and end their regular season with the Sun Devils.
Looking to sweep Kentucky, Arizona State came out red hot, sweeping the first quarter and entering the halftime break with an 8-1 lead.
Kentucky fought back in the third quarter, entering the fourth period with a 10-4 deficit, but the first half dominance of the Sun Devils would be too much to overcome as the Cats were defeated 15-11.
With the regular season in the books Kentucky will return to action on Saturday, April 15, in the STUNT National Championship. Kentucky's first opponent and start time has yet to be determined.