Kentucky STUNT suffers sweeping defeat in midweek double header heading into final tournament
Kentucky STUNT traveled to Costa Mesa, California, to compete against Vanguard and Concordia Irvine in a doubleheader, but were defeated by both teams on Wednesday.
The Cats were defeated by Vanguard 21-8 and Concordia Irvine 21-13.
Their first game, against Vanguard, started out smoothly, with Vanguard scoring the first two points and the Cats responding with two of their own, seeing both teams tied at the end of the first quarter.
In the second quarter though, Vanguard scored four points to take the lead over the Cats, who had only scored one point. As such, at halftime the Lions led the Cats 6-3.
With only two quarters remaining the Cats needed to figure out how to win and get the points they needed, but this mission would get off to a rocky start when the Lions scored first at the start of the quarter.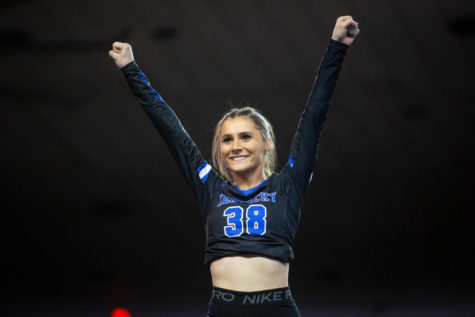 Kentucky continued fighting and the teams then tied for the second point while the Cats claimed the third point, but the Lions were able to win the final point heading into the fourth quarter, in which the Lions cleaned house by scoring 12 points to the Cats' three.
The lopsided fourth quarter gave Vanguard the opening win against Kentucky 21-8.
The Wildcats returned to play Concordia Irvine after their loss to the Lions and, similar to Vanguard, the Golden Eagles were the first to score.
Although the Cats were able to even the score, the Eagles were able to score two more points before the quarter ended, making the score 3-1 going into the second.
The second quarter began with a point for both teams before two more points were scored for the Eagles.
The final point to end the quarter was a tie, making the score 7-3 with the Eagles leading the Wildcats at halftime.
The third quarter began with ties while Concordia secured the second point. Then, in the third round, both teams fought to another tie, though the final point ended up going to the Eagles, increasing their lead to 11-5 with only one quarter remaining for Kentucky.
The Wildcats were able to lessen the gap by adding another three points for themselves in the final quarter, but the period ultimately consisted of an extra ten points towards the Eagles and just eight for the Cats, resulting in a 21-13 defeat for Kentucky by the Concordia Irvine Eagles.
Looking to rebound from the defeats, Kentucky STUNT returns to action on Friday, March 24, in a double header to begin the 2023 Cal Baptist Tournament. The tournament will be the final event of the regular season for Kentucky.