Kentucky mens basketball reacts to NCAA Tournament matchup with Providence
The Kentucky Wildcats received a No. 6 seed in the 2023 NCAA Tournament where they will play the Providence Friars on Friday, March 17, at 7:10 p.m. in the first round in the East region.
The game will be played at Greensboro Coliseum in Greensboro, North Carolina.
After the Wildcats learned of their matchup in this year's edition of "March Madness", two players shared their thoughts about being able to participate.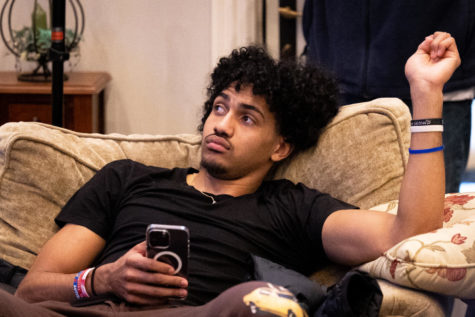 "I mean it's awesome, you know as a kid, you dream of playing in the NCAA Tournament," senior guard CJ Fredrick said about the opportunity.
Fredrick transferred from Iowa last season but missed the year due to a left hamstring injury that required surgery. With the Hawkeyes, he made the tournament in 2019 and 2021.
For junior forward Lance Ware, a trip back to the tournament was significant because of the hard work required all season to get back to that point.
"It's been a lot of ups and downs this season so for us to be in the tournament and have a seed… everybody dreams of playing this time of year, and the fact that we can do that, we're grateful."
Head coach John Calipari also spoke about the matchup and what the team needs to do to prepare for it.
"I want to enjoy this run and it starts with a very hard game against a really good opponent," Calipari said. "So, we're going to focus on one thing: that game. If we're in the right mindset and we're ready to go, I'm coaching the team I want to coach."
The matchup against Providence had another significance to Kentucky itself though as, on April 25, 2022, Bryce Hopkins left Kentucky and transferred to Providence after entering the portal on April 7 of that same year.
Both Fredrick and Ware spoke on what it will mean to have a reunion with Hopkins after both played with the sophomore last season.
"Yeah, it's gonna be fun," Fredrick said. "You know, we're really looking forward to competing against Bryce and seeing him. He was one of our teammates, we love him." 
Ware echoed the sentiment.
"Yeah, even though he transferred, he still has that bond with us, that's our brother for life and obviously he had a really good year."
Calipari also had good things to say of Hopkins who, after struggling to find his role with Kentucky last season, has blossomed into a leader for the Friars.
"Bryce is such a great kid and he's a terrific basketball player," Calipari said. "He had an unbelievable year for them (Providence)."
Calipari also had high praise for the Providence head coach Ed Cooley, whom he coached back during his days with UMass, saying Cooley is a "great coach", "great communicator," "motivator" and that, overall, he's "terrific."
While the matchup between the Friars and Cats is sure to draw plenty of attention come Friday, Kentucky will have a few days to prepare in the meantime.
Kentucky and Providence are set to tip off at 7:10 p.m. EST in Greensboro, North Carolina, with the matchup set to air live on CBS.