Poor shooting from Kentucky led to Cats' exit in SEC Tournament against Vanderbilt
After arguably its most impactful win of the year in Fayetteville against Arkansas, Kentucky was unable to carry the momentum against hometown hero Vanderbilt on Friday night, losing 80-73 and exiting the SEC Tournament.
In a Bridgestone Arena that felt more like a home game for the Wildcats in Vanderbilt's own backyard, the Cats came out energized and jumped out to a 14-4 lead, but Vandy would have different ideas in its own city.
The star of the night for Vanderbilt and the biggest threat for Kentucky's aspirations of leaving Nashville with an SEC Tournament title was Ezra Manjon, who shot 8-11 and scored 25 points to lead all scorers and push the Commodores over the Wildcats for the second time in two weeks.
Tyrin Lawrence also played a major role for Jerry Stackhouse's squad by scoring 18 points and grabbing four boards while dishing out two assists.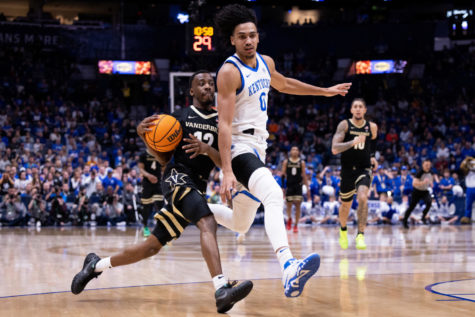 Just nine days after hitting a game-winning shot in Rupp Arena, Jordan Wright would continue to be a thorn in the side of Kentucky, scoring 18 points and racking up six rebounds to push the Commodores into the semi-finals of the SEC Tournament.
What ultimately caused Vanderbilt to be able to pull away from Kentucky was simply a difference in hitting shots. The Commodores hit 49.1% of their attempts from the field while drilling 10 threes from 25 attempts, finishing nearly perfect from the charity stripe, hitting 18-20. 
Kentucky, on the other hand, was not as successful, just hitting 42.4% of the time from the field and only had six made threes on 25 tries.
The Cats did outrebound the Commodores 43-26, but the biggest discrepancy was at the free throw line as the Wildcats were 11-20 from 15-feet out, something head coach John Calipari claimed was the deciding factor in the loss on Friday night.
"They made unbelievable plays down the stretch of the shot clock, and we didn't," Calipari said. "We outrebounded them and did some good stuff. (We) got to throw daggers this time of the year. You got to take care of what's in front of you, and we didn't tonight."
Even worse for the Cats, Antonio Reeves, who was coming off a 37-point performance against Arkansas, led all Kentucky scorers with 22 points on Friday but fouled out late in the game, with the veteran transfer expressing frustration at not being able to help his team. 
"It's very frustrating. I wanted to be out there for the team. I wanted to make a big play," Reeves said. "(I) got a holding foul (and it) took us out of rhythm a little bit. Just got to cheer on from the bench."
Oscar Tshiebwe also put up respectable numbers on Friday night, scoring 19 points and grabbing 15 boards, but "Big O" also missed three important free throws.
"We just got to stay focused," Tshiebwe said. "We got to trust in each other, trust our team. We got a pretty good team. We struggled a little bit today with free throws, (we) missed a couple. Vandy was good. I have faith in my teammates in everything. This will give us more chance to be well and be prepared."
That said, not is all doom and gloom for the Cats who, with the loss, now find themselves with two extra days of rest before the commencement of the NCAA Tournament. 
"We need a couple days to just recover from stuff right now," Calipari said. "So, in the next couple days we'll probably need to recover." 
With the loss in Nashville the Wildcats will now see the SEC Tournament title go to a different team, who would eventually be revealed to be Alabama, for the fourth consecutive season.
Despite that, Kentucky's dreams and aspirations of a ninth national championship are still on the cards as the Cats are all but certain to be announced as part of the field of 68 for the NCAA Tournament. 
Kentucky now awaits its NCAA Tournament future, which will be announced on Sunday, March 12, in the NCAA Selection Show, which will take place at 6 p.m. EST.