CJ Fredrick, Kentucky mens basketball continued to battle injuries in SEC Tournament loss
Kentucky mens basketball was defeated 80-73 by the Vanderbilt Commodores in the quarterfinals of the SEC Tournament.
Unsurprisingly, as has been the case with the team nearly all season long, Kentucky struggled with players not being 100% in the matchup, with injuries to key names in the lineup.
Veteran point guard Sahvir Wheeler was the only name who didn't suit up at all for Kentucky, though several other names were far from at their peak performance level facing off against the Commodores.
Sticking to the point guard position, the game marked the return of freshman Cason Wallace, who missed Kentucky's regular season finale after suffering an injury against the Commodores in the Cats' home finale.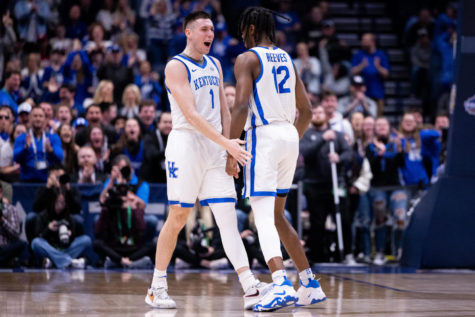 Wallace was part of the starting lineup for Kentucky, finishing the game with seven points after playing 37 minutes.
Veteran forward Jacob Toppin was also limited in practice prior to the game, despite his insistence that he was 100% come tip off. Toppin scored 21 points for the Cats in 38 minutes played, also adding 11 rebounds for a double double.
Also, perhaps the most obvious example of a player fighting through injuries, former Iowa Hawkeye CJ Fredrick played 14 minutes for Kentucky just under a week after being called the most important player in the road win at Arkansas for choosing to play injured.
Fredrick, who has battled injuries since coming to Kentucky, dove for a loose ball during Kentucky's home loss against Arkansas in early February but instead landed on a television camera that was courtside, suffering cracked ribs in the process.
"Honestly at first I didn't really know what was happening," Fredrick said. "It kind of knocked the wind out of me but when you're in a game like that you don't think, 'I might have just cracked a rib.' I went on and played and then the next morning I was really feeling some discomfort."
Unfortunately for Fredrick, the best medicine one can give a cracked rib is time to heal and, for a Kentucky team heading into the NCAA Tournament in less than a week, time may be one of the few things it doesn't have.
"It really only heals with rest and there's not a lot of resting right now," Fredrick said. "It's just going to be one of those things, you just gotta deal with it, there's really nothing else you can do. At this point I'm just trying to avoid getting hit, it's tough to breathe."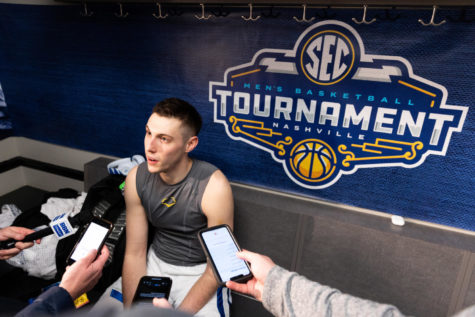 Fredrick refused to let his injury keep him from contributing to his team though and, despite saying he tries to avoid contact, the Covington Catholic graduate said he would do whatever the team needed him to do.
"I'll do whatever I gotta do right now," he said. "It's tough and it's frustrating because I can't do a lot of things I want to do, but I gotta play through the pain. Everyone's a little dinged up right now. Medical and training staff is doing a great job of trying to avoid (me taking) any contact or hits before games and then just kinda going out there and doing what you can do in games."
Fredrick said he felt his journey at Kentucky embodied the journey his team as a whole has experienced this season, being forced to fight through adversity even at the least opportune of times.
"I think it defines our whole team," he said. "It's what we've been through all season. If I can go out there and not hurt myself more and have a chance to play in the NCAA Tournament and an SEC Tournament, then I'm absolutely going to do that and do whatever I can. It's been a dream of mine since I was a kid. This team has been through a bunch of adversity, and I think that's going to be an emphasis going into the tournament: everything we've been through and believing in each other. When our backs are against the wall we come together and play our best."
Kentucky and Fredrick will return to action in the NCAA Tournament with the opponent and time pending. Kentucky's seed and first round opponent will be revealed during the NCAA Tournament Selection Show on Sunday, March 12, at 6 p.m. EST.