No. 6 Kentucky mens tennis sweeps Arkansas 7-0
No. 6 Kentucky mens tennis completed its first sweep in SEC play as they shutout Arkansas 7-0.
Fifth-year senior Alafia Ayeni and senior Taha Baadi shined as they beat a ranked doubles opponent for the second-straight game.
The two Wildcats defeated No. 75 Adrien Burdet and Melvin Man 6-2 in a dominant showing to improve to 3-1 in ranked play.
Senior Liam Draxl, accompanied by freshman Jaden Weekes, cruised to a 6-3 victory, making it the duo's third-straight win as well.
The wins boosted the team's overall doubles record to 12-5 for the season.
Moving into singles, the Wildcats' strong play continued on the court.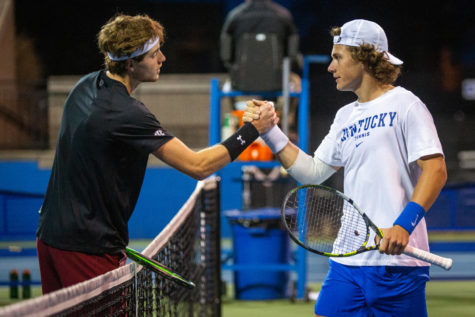 No. 23 Draxl took down Arkansas' Stefanos Savva in dominant fashion, 6-2, 6-2, improving his record to 12-3 in singles.
No. 47 junior Joshua Lapadat continued to stay hot, winning his eighth-straight match as he cruised past Adrien Burdet, 6-1, 6-1.
Lapadat's winning streak is not only the longest on the team, but his singles victories are also the team's best.
Baadi guaranteed a Wildcat victory as he dismantled his opponent in straight sets, 6-3, 6-4, giving Kentucky its fourth singles win.
The fifth singles win came as Ayeni split sets against his opponent, but he eventually dominated in the tiebreaking set.
Freshmen duo Weekes and No. 112 Charlelie Cosent put the finishing touches on their competition as they both won in straight sets, completing the 7-0 shutout.
The No. 6 Wildcats will hit the road this upcoming week to play No. 15 Auburn on Thursday, March 16. at 4 p.m. EST.