No. 5 Kentucky mens tennis stays undefeated on the road with win over Texas A&M
No. 5 Kentucky mens tennis notched a 4-3 victory against Texas A&M at the Mitchell Tennis Center in College Station, Texas, on Saturday.
The team jumped ahead early by securing the doubles point with a hard-fought comeback effort.
Fifth-year Alafia Ayeni and senior Taha Baadi came up short against Trey Hilderbrand and Noah Schachter, 4-6.
The power duo of junior Joshua Lapadat and redshirt junior JJ Mercer tied up the fight for the doubles point with a 6-4 victory over Kenner Taylor and Pierce Rollins.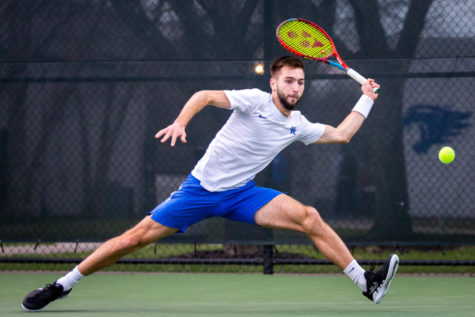 The deciding match for doubles went to Kentucky 6-3, as senior Liam Draxl and freshman Jaden Weekes came up strong for the Wildcats to clinch the point.
However, Texas A&M quickly tied up the match at the start of the singles matches, with Luke Casper defeating Wildcat freshman Charlelie Cosnet in straight sets with scores of 6-1.
The next two singles matches were split, as Ayeni prevailed over Raphael Perot 7-6 (3), 6-4, and Weekes dropped a close match against Rollins with scores of 2-6, 6-4, 6-3.
The Aggies took a 3-2 lead when Draxl lost a nail-biter against Scachter, 6-3, 7-6 (10), so the Cats needed to win on the two remaining courts to clinch the match.
Baadi made an impressive comeback effort over Giulio Perego and defeated him 3-6, 6-3, 6-4 to tie up the match at three.
Finally, on the last court standing between Lapadat and Guido Marson, both sets remained close, but Lapadat came out on top by a score of 7-6 (4) and 7-5, giving the Wildcats the victory.
Lapadat's win marked his eleventh singles victory of the season, leading the team.
Kentucky will return home to face LSU on Thursday, March 9, at 5 p.m. EST at the Boone Tennis Center.