Antonio Reeves leads Kentucky to victory over Arkansas despite injuries
Kentucky mens basketball (21-10) defeated Arkansas (19-12) 88-79 on Saturday afternoon to wrap-up its regular season before traveling to Nashville, Tennessee, for the SEC Tournament.
The Cats would enter Fayetteville against an Arkansas team that won by 15 at Rupp Arena about a month prior with no point guards healthy for John Calipari's squad as both Sahvir Wheeler and Cason Wallace were out. To make matters worse, CJ Fredrick also battled through some knocks as well.
Despite entering shorthanded, the Wildcats had little to fear as Antonio Reeves ensured that injuries wouldn't dampen Kentucky's offense, finishing with 37 points on only two made 3-pointers. 
Despite the career-high point total from Reeves, Calipari gave the majority of the credit to Fredrick, who he believed made the biggest impact by simply suiting up to play. 
"We don't win the game unless CJ decides to play hurt. If he did not play, we would not have won the game and he was hurt," Calipari said. "He was the most impactful player."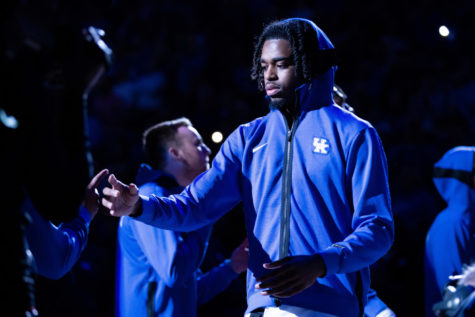 Reeves, however, would be the true deciding factor against the Razorbacks as he was forced to take on the point guard duties at points in the game with Wallace and Wheeler out, something he said he was prepared for.
"I knew it was going to happen," Reeves said. "(I was) just ready to go out there and you know, just give them it all." 
Reeves would go 12-17 from the field and was perfect from the charity stripe, making all 11 of his attempts from the line. 
Jacob Toppin would also make a great impact for the Cats as he finished with 21 points, making seven of eight free throws, many of which were in crunch time.
Toppin also carried some of the ball-handling duties, dishing out three assists for the Cats, though he knew he wouldn't do it alone after talking to Reeves before tipoff. 
"Honestly, before the game I told him, 'Listen, Sahvir is out, Cason is out, CJ is hurt and we're going to have to step up on offense.' I told him if we have plays, we have to make it. I told him that and he just looked at me and smirked a little bit and I knew what type of game he was going to have," Toppin said. "I didn't think he was going to have 37, but I knew he was going to be ultra-aggressive. I'm happy for him. He helped us win today."
With injuries at the point guard position going into Saturday afternoon, Kentucky was forced to play more "positionless" basketball, which was something that Toppin claimed was "fun" for the Wildcats. 
"It makes the game so much fun," Toppin said. "At the end of the day we were just hooping. We're just playing basketball and that's when it's fun. I'm not going to lie, today was definitely a really fun game to play." 
Despite fouling out late in the game, Oscar Tshiebwe also had another solid performance, finishing with 12 points and racking up 13 boards. 
With the win, as well as help from around the conference, Kentucky now finds itself as the No. 3 seed in the upcoming SEC Tournament in Nashville, being due to face the winner of Vanderbilt and Georgia/LSU.