At the buzzer: Kentucky falls to Tennessee 80-71 in quarterfinals of SEC Tournament
No. 14 Kentucky womens basketball failed to overcome No. 3 Tennessee 80-71 in the SEC Tournament quarterfinals in Bon Secours Wellness Arena in Greenville, South Carolina.
The Wildcats made tournament history last night, becoming the lowest seed ever to advance to the quarterfinals while also extending its SEC Tournament win streak to seven – the longest in program history.
Despite finishing the regular season 2-14 in conference play and receiving the lowest seed for the tournament, the Wildcats have found much success in Greenville, upsetting No. 11 Florida 72-57 during the first round and No. 6 Alabama 71-58 during the second.
Senior Robyn Benton led the Cats to victory against the Gators with 20 points while sophomore Jada Walker took on that role against the Crimson Tide, putting up a career-high 24 points and six steals.
Tonight, the Wildcats took the court against the Volunteers after losing to them 83-63 in Lexington, Kentucky, just five days prior to tonight's matchup to conclude regular season play.
Early after the first whistle, the Volunteers proved why they held a No. 3 by their name, keeping the Cats from finding a basket for the first handful of minutes of the game.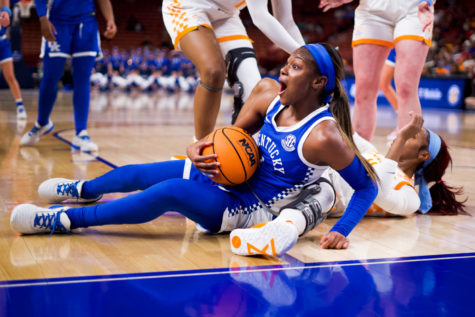 Tess Darby for the Vols racked up nine points in the first quarter, going 3-3 from beyond the arc, but Kentucky fought to keep up with an 8-0 scoring run to go into the second quarter down by 10.
The Cats, however, continued to find little success on the court as they suffered from five turnovers and a scoring drought lasting almost six minutes.
Looking to turn things around, a 3-pointer from Scherr helped to get the Cats out of their hole which led to an 11-0 run over Tennessee.
The first half concluded with the Wildcats trailing the Vols by eight points while shooting 37.5% from the field.
Benton began to find her rhythm in the third quarter, putting up six points for Kentucky, with the Cats closing the gap between them and the Vols to just three points at a given time.
Yet, Kentucky found difficulty completing its looks on the court and went 6-17 in the third while Tennessee's Jordan Horston contributed nine points in the span to keep the Vols up.
Going into the final quarter, Kentucky looked to take control of the pace in hopes of finding a run that would put them ahead of Tennessee.
Crucial baskets from Blair Green and Benton gave little boosts to the Cats, but Tennessee was always a step ahead to shut down the Cats from taking off.
The rest of the fourth quarter played out with both teams taking back-to-back shots, but with Kentucky unable to make its SEC magic happen to overcome the Vols.
The loss concludes Kentucky's run in the SEC Tournament and its time in Greenville.