No. 14 Kentucky womens basketball becomes lowest seed to reach SEC quarterfinals
No. 14 Kentucky womens basketball became the lowest seed to advance to the quarterfinals of the SEC Tournament on Thursday after beating No. 6 Alabama 71-58 inside Bon Secours Wellness Arena in Greenville, South Carolina.
The Wildcats showed noticeable improvement since the last time they faced the Crimson Tide on Feb. 9 when Alabama left Memorial Coliseum with the 72-65 victory behind a 22-point performance from Alabama graduate student Brittany Davis.
It would be a different story for Davis this time around, scoring only nine points after going 4-16 from the field and rattling in only one of her five attempts from 3-point land.
The spotlight of the game would instead fall on sophomore guard Jada Walker who recorded a career-high 24 points and tied her career high in steals with six.
"I just feel like I came out with a lot of confidence today," Walker said. "I haven't been shooting too well in the past few games, so just seeing the shots go in and then defensively getting steals and helping my team get stops was good."
Walker's career performance could not have come at a more crucial time for the Cats after graduate student Robyn Benton, Kentucky's consistent leading scorer, spent plenty of time on the bench after recording her fourth foul in the third quarter.
Walker wouldn't be alone with junior Maddie Scherr scoring 19 points and junior Eniya Russell scoring 12 clutch second half points, including 10 fourth-quarter points to help Kentucky extend its lead.
"I thought Eniya had the right mindset," Kentucky coach Kyra Elzy. "I thought she made some big plays, obviously she's unbelievably talented and she has it and she stepped up big when we needed her."
Perimeter shooting proved to be Kentucky's kryptonite the last time they matched up with the Crimson Tide when Alabama rattled in 13 of its 28 attempts from beyond the arc.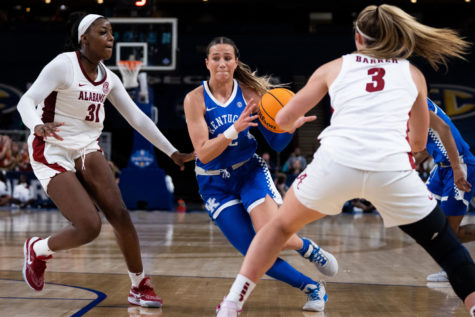 The Wildcats' adjustments would be evident this time with Kentucky limiting the damage with tighter perimeter defense, as their 38.5 three-point percentage topped the Crimson Tide's 36% from the three.
Finishing games and consistency throughout play have been crucial factors for Kentucky as the Wildcats had never before won a game when trailing at halftime this season.
The Wildcats ended that streak after overcoming a 32-26 halftime deficit, giving up only 26 points in the second half after surrendering 20 in the first quarter alone.
Kentucky will move on to face Elzy's alma mater in the Tennessee Volunteers, a matchup that ended poorly for the Wildcats when they fell 83-63 inside Memorial Coliseum on Feb. 26.
"We dug ourselves too big of a hole to start the game," Elzy said. "We came out a little flat…it's good to have a second chance."
The Wildcats will look to take advantage of their second chance and hope for their seventh straight SEC tournament win when they face No. 3 Tennessee inside Bon Secours Wellness Center on Friday, March 3, at approximately 8:30 p.m. EST. The game can be streamed on the SEC Network.