Kentucky womens basketball's new lineup struggled to come together in Texas A&M loss
Kentucky womens basketball traveled to College Station for an SEC matchup that resulted in a 74-67 loss to Texas A&M.
The Wildcats began the game without two starters after Nyah Leveretter tore her ACL and Robyn Benton was benched following an ejection. Coming into the matchup Benton was Kentucky's leading scorer with 16.5 points per game.
In their replacement, Kyra Elzy started Emma King and Adebola Adeyeye.
Kentucky struggled defensively around the basket, playing four guards on the court at once in Leveretter's absence.
The Aggies outrebounded Kentucky 46-29, rallying for 14 offensive rebounds for 12 second chance points in Kentucky.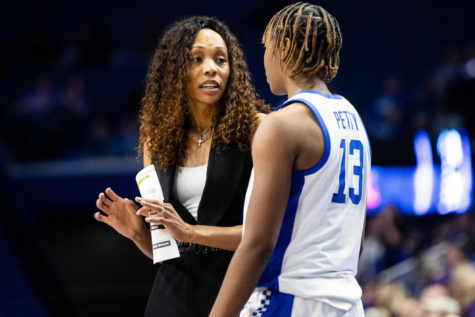 Despite that, Ajae Petty shined off the bench, scoring 10 points with seven rebounds and four steals.
Unfortunately for her solid showing, Kentucky was undisciplined with its fouls at times, giving up four separate three-point plays off of fouls in the first quarter alone.
In the third quarter the fouling mishaps continued, with Adeyeye being benched with four personal fouls and Benton fouling an Aggie 3-point shooter.
Scoring around the basket was another problem for Kentucky, with the team only finishing 46% of its layups. On two occasions the Wildcats even went scoreless for four minutes at a time.
The droughts made it easy for Texas A&M to extend its lead, with the Wildcats trailing for nearly 34 minutes of the game. 
As a whole Elzy had little to be happy about after the final buzzer, with the team struggling both offensively and defensively against the Aggies with the SEC Tournament just over the horizon.
The Wildcats will host the final game of the regular season at Memorial Coliseum in a matchup with Tennessee on Sunday, Feb. 24, at 2 p.m. EST with live coverage on the SEC Network+.