COLUMN: Should the 2023 season be Nick Mingione's last at-bat?
On June 13, 2016, Nick Mingione was named the head coach of Kentucky baseball, replacing coach Gary Henderson, who had amassed many accomplishments in his seven-year tenure in Lexington.
UK wanted a leader to take place after Henderson resigned and Mingione fit that bill. His experience under then Mississippi State head coach John Cohen seemed to be enough to qualify him for the position.
In his last year at Mississippi State, the club went 44-18-1 with an impressive 21-9 conference record.
His "Student. Person. Player." model was also very attractive to the athletic department, as he wasn't just worried about getting guys to "the show" but also teaching them how to be better in school and as a person.
"Nick Mingione is exactly the kind of coach we hoped to hire when we began our search," Kentucky Director of Athletics Mitch Barnhart told UK Athletics after the hire. "His passion, tactical mind and tireless recruiting efforts made him an important part of Mississippi State's staff during some great years for the program."
Mingione shared that sentiment coming on as the coach of the Wildcats.
"This is an opportunity I've dreamed about for more than a decade," he said to UK Athletics. "From the moment I first stepped foot on campus I knew it would be a place I could call home."
His first season was all that Kentucky fans expected out of the hire, with Mingione recording an overall 43-23 record with a 19-11 record in conference play.
The season would see Kentucky finish third in the SEC after the top two teams, Florida and LSU, tied for first.
The Cats would even earn the top batting average in the conference with no shortage of hitters, recording a .316 average on their way to the NCAA Tournament, where they would go on to reach the Super Regional before falling to in-state rival Louisville, ending their chances to hold up the trophy in Mingione's first year.
Even with the loss, Mingione was named the National and SEC Coach of the Year.
Then, things took a turn.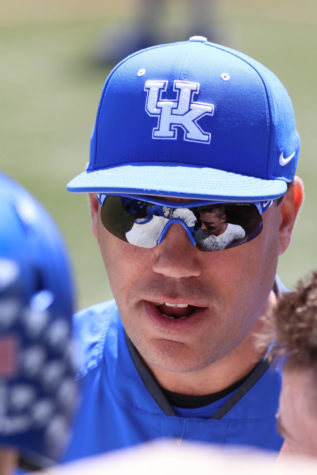 The program would go 20-40 in conference under the Tarrytown, New York, native the next two seasons.
COVID-19 sidelined the Cats for the 2020 season, perhaps giving Mingione a break from his troubling seasons and the criticisms hailing from BBN baseball faithful.
Then, things seemed back on track when the 2021 campaign saw the Cats start off hot in non-conference play with a solid 8-1 record in the month of February.
Unfortunately for Mingione, from March-May, the wins stopped coming as consistently as they had been when the Wildcats faced easier out-of-conference opponents. The Cats finished with an overall record of 29-23 and a conference record of 12-18, well below .500.
This is around when Mingione's seat really started to heat up. Four-straight losing conference records started to lead some fans thinking maybe year one was simply a fluke.
Regardless, Barnhart thought otherwise and chose to hold on to him.
This past year, in 2022, Mingione's "Bat Cats" finished seven games over an even mark while holding steady on the 12-18 conference record from last year, extending the losing record streak to five straight out of the six years he's been at the helm. None of that is to mention mid-week losses to schools such as Ohio University and Eastern Kentucky in the process, the latter of which delayed the program from reaching its 2,000th victory.
This begs the question going into the 2023 season: should UK and Barnhart move on?
According to On3, Mingione's contract runs through June 2025, with the coach also receiving a one-year extension if the team reaches the NCAA Tournament, which the seventh-year coach hasn't done since his debut year back in 2017.
According to A Sea of Blue, Mingione earns $400,000 a year with an additional $175,000 coming from guaranteed media and endorsements. Were the team to fire him without cause, UK would owe him anywhere from 50-100% of his salary, with the timeframe between July 2021 and June 2022 ensuring he would earn 75% of his salary over the next two years.
All that being said, it's possible not all is lost with the Kentucky baseball program, but whether or not that's the case relies entirely on one thing: the Cats making it to the NCAA Tournament this season.
If the team makes the postseason, then it is possible things will work out — after all, some coaches need time to succeed — but if things don't, that'll mark just another year since 2017 that the Cats haven't gone dancing.
In the case that he doesn't make it, there is little room to do anything other than move on and find another coach to take over the program.
While the pairing started off appearing to be a match made in heaven, Mingione may simply not be the guy for this program anymore, and if he isn't, Kentucky has to be careful not to just maintain the status quo out of an appreciation for off-the-field activities.
Kentucky baseball is set to kick off its 2023 season on Friday, Feb. 18, in Elon, North Carolina, as it faces off against the Elon Phoenix in a three-game series. Mingione is set to lead the Wildcats in the series.