Kentucky baseball to start 2023 campaign outside preseason top 25 rankings
The college baseball season is right around the corner for Kentucky, but the team won't be represented in the D1 Baseball Preseason Top 25 as it begins the demanding 52-game stretch.
The Cats are set to start off the season on the road for a three-game series against Elon, followed by a 10-game homestretch featuring the likes of Evansville, Wright State, in-state opponents Morehead State and Murray State, Indiana State and Ohio, none of which feature within the top 25 either. 
Kentucky finished its 2022 campaign with a record of 33-26, 12-18 in the SEC, placing sixth out of seven total teams in the SEC East. The only teams statistically worse than the Cats in the conference were the Missouri Tigers and the Mississippi State Bulldogs. 
Kentucky did not fare well against the top teams in the SEC last year, going 3-6 against the league's four best teams record-wise in the regular season. 
Despite that, the team registered three SEC series wins against Tennessee, Georgia and Auburn, losing its series against Arkansas, Ole Miss, Texas A&M, Missouri, Vanderbilt, Florida and South Carolina. 
This season, the Wildcats will face 10 SEC opponents, eight of which possess a preseason ranking.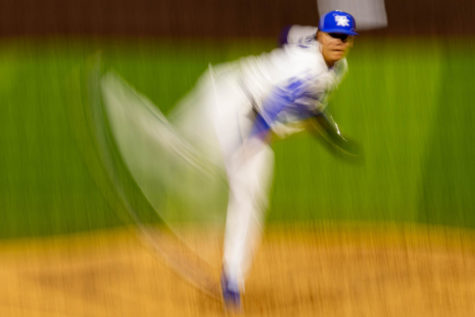 D1 baseball ranks LSU and Tennessee at No. 1 and No. 2 respectively, while Ole Miss also comes in at No. 4. Kentucky is set to face LSU from April 13-15 and Tennessee from May 12-14, but are not slated to play the Rebels in the regular season.
The No. 5 spot in the rankings went to Texas A&M, which Kentucky will face from April 21-23, bringing the total to four of the top five preseason teams being from the SEC and three being on Kentucky's schedule.
Florida and Arkansas also found themselves ranked, being slotted in at No. 7 and No. 8 while the Vanderbilt Commodores slid in at No. 10. Kentucky is set to face Vanderbilt from April 28-30 and will conclude its regular season hosting Florida from May 18-20.
Alabama also made the cut, landing at No. 20, not far from the No. 23 South Carolina Gamecocks, both of which Kentucky is set to square off against, facing the Tide from March 24-26 and the Gamecocks from May 5-7.
Kentucky only has one non-conference opponent that was ranked in the preseason top 25, with that being Louisville, which UK will face on April 11 and April 25, with the Cardinals slotting in at No. 16.
Time will tell whether or not the Wildcats will be able to maneuver their way into the rankings and compete with the top dogs of the SEC, but one thing is for certain based on the preseason poll: they'll have plenty of opportunities to prove themselves.  
The full list of the D1 Baseball Preseason Top 25 rankings can be viewed below: 
LSU Tigers

Tennessee Volunteers

Stanford Cardinal

Ole Miss Rebels

Texas A&M Aggies

Wake Forest Demon Deacons

Florida Gators

Arkansas Razorbacks

Oklahoma Sooners

Vanderbilt Commodores

East Carolina Pirates

North Carolina Tarheels

Maryland Terrapins

Virginia Tech Hokies

TCU Horned Frogs

Louisville Cardinals

UCLA Bruins

Southern Miss Golden Eagles

Virginia Cavaliers

Alabama Crimson Tide

NC State Wolfpack

Miami Hurricanes

South Carolina Gamecocks

Texas Tech Red Raiders

Oregon Ducks