Nick Ammirati and the struggle of volunteer assistant coaches in college baseball
When diving into the world of baseball, the plight of the minor league player is one that has been well-documented as a story of overcoming hurdles and defying the odds.
Living in less-than-ideal circumstances and making less than ideal wages for a chance to hold onto a dream — that one day the athletes can achieve their dreams of playing in the MLB, no matter how unlikely.
While it's a story well-known by the casual baseball fan, the sport has another subset of people with a love for the game who give it everything they have for a chance at accomplishing their dreams: volunteer assistant coaches.
For years, college baseball has refused to allow a third paid assistant coach, leading to a phenomenon known as "volunteer coaching," in which those with a dream of making it in coaching take on all of the workload of normal coaches without a wage or benefits.
UK volunteer assistant Nick Ammirati is one of those coaches.
"We've probably lost a lot of great coaches over the years just because financially they couldn't continue to coach," Ammirati said. "Those people have worked basically for free for a long time. It's called a volunteer position but it's a full-time position."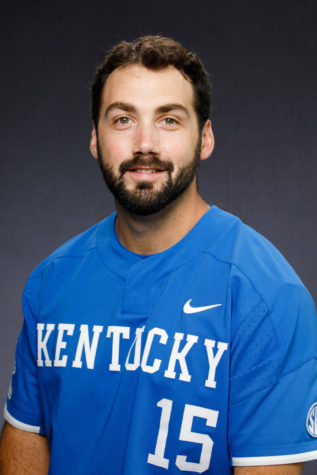 Ammirati, dubbed "Ammo" during his playing days, started his journey as a player, playing at Panola College in Texas, which led to him being drafted by the Miami Marlins.
Opting to return to college, Ammirati transferred to Mississippi State, where he played two seasons and helped the Bulldogs to a runner-up season in the College Baseball World Series in 2013.
He said his stint in Starkville would ultimately change his life in ways he never could have expected, with one of Ammirati's coaches on that team being none other than Kentucky head coach Nick Mingione.
"I had the privilege of coaching Nick Ammirati at Mississippi State so here's a track record there," Mingione said. "I watched how he evolved, I watched him go from a player to a college coach and now an SEC coach. He was the starting catcher on our 2013 national championship runner up team, so I watched the way he interacted with (everyone else) and he was a huge piece of that puzzle."
Ammirati came to decide coaching was his calling almost immediately after his playing career ended.
He didn't shy away from the reality of what being a volunteer coach entailed, detailing the difficult journey he's undergone.
"I've gone periods of six months without getting a paycheck," Ammirati said. "You just got to find ways to make money out of it. A lot of people teach lessons on the side to teach younger kids. A lot of guys have other jobs and where they have to work which is tough because you're at baseball all the time."
Ammirati also touched on how the salary often isn't the worst of the volunteer position, with the lack of health benefits being a big factor as well.
"(Benefits) give you peace of mind," he said. "A lot of great coaches had to be like, 'I can't do this anymore. I want to start a family.' It's hard to have a child without health care."
With the situation seeming bleak after five years of demands, college baseball fans across the country rejoiced when it was announced in January that the NCAA Division-1 Council approved a measure to turn all volunteer positions into full-time coaching positions without recruiting constraints.
"As long as I can remember, there were volunteer coaches," Mingione said. "I would venture to say that the other 13 head coaches in our league were all probably volunteers at one point. It's definitely going to open some doors at all levels."
With Kentucky baseball set to kick off the 2023 season Friday, Feb. 17, in Elon, North Carolina, coaches and fans alike will be able to enjoy the season not just for the entertainment it provides but also with the knowledge that it will be the final season without a third paid assistant.
The legislation allowing volunteer coaches to become full-time paid coaches is set to go into effect on July 1.