Kentucky enters crucial stretch for tournament seeding
In a season that has been much more turbulent than expected for fans, Kentucky mens basketball has a chance to fix its resume in its upcoming stretch of games.
As its record currently sits, Kentucky is projected to be a No. 10 seed in the NCAA tournament according to ESPN's Joe Lunardi.
The Cats also sit fifth in the SEC standings, which would set them up for a matchup against the winner of the No. 12/13 game in the second round of the SEC tournament.
These standings are disappointing for the unranked Wildcats, who were originally projected as the number one overall seed by Lunardi in the preseason bracketology.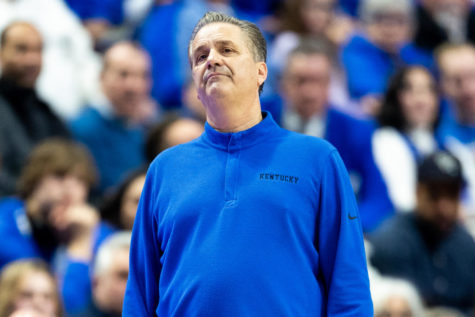 These standings are not unwarranted though, as Kentucky currently has a 1-6 record against Quadrant-1 opponents. Not only that but it also has an embarrassing quadrant-4 loss on its resume, that being a 71-68 defeat to South Carolina, which currently ranks 276th in the NET, a metric that often correlates with scoring margins.
With that being said, the rest of February provides a chance for Kentucky to bolster its resume, with four of its six games remaining this month being against quadrant-1 competition.
A quadrant-1 game is often defined as any game against a top 30 team at home, a top 50 team at a neutral site or a top 75 team on the road, using the NET as the rankings for the teams.
Kentucky starts this stretch of opportunities with a game on Tuesday against Arkansas inside Rupp Arena, with the Razorbacks ranking 28th in the NET, meeting the requirements to be a quadrant-1 opponent.
Win or lose, the Cats then get their last true tune-up game in a rematch against Georgia, who is not a quadrant-1 opponent, the following week.
The Wildcats next opportunity is just over a week later when they travel to 46th ranked Mississippi State. That matchup is immediately followed by a huge matchup against the second highest NET ranked team in the country, the Tennessee Volunteers.
The last two games of February are a road matchup against 43rd ranked Florida, which UK beat 72-67 last weekend, and a home game against Auburn, which currently sits just outside of quadrant-1 at No. 31 but is more than capable of becoming a quad-1 opponent by the time Feb. 25 rolls around.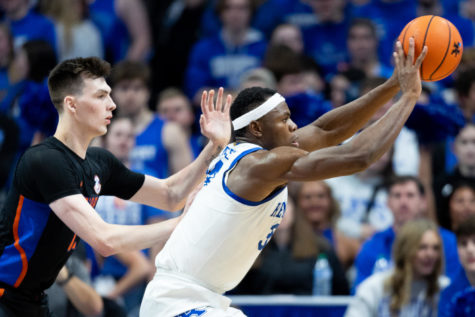 The best-case scenario for this Wildcat squad would be to go undefeated in this stretch and for Auburn to be a quad-1 opponent in the process.
That path would see the Wildcats finish the regular season 6-6 against quad-1 opponents with more chances sure to come in the SEC Tournament. 
This would be significant as Baylor, which is currently 7-6 against quad-1 opponents, is projected as a No. 3 seed according to Lunardi.
While the loss to South Carolina likely wouldn't allow Kentucky to be a top three seed, an undefeated February would put it in a great position to be in the No. 5-6 range at the end of the regular season.
While it may be wishful thinking for fans to expect an undefeated stretch to finish the season, a good home stretch is Kentucky's last chance to ease its road toward bringing home a ninth national championship.
Kentucky and Arkansas are set to kickoff at 9 p.m. EST on Tuesday, Feb. 7, inside Rupp Arena with the game airing live on ESPN.