Three takeaways from Kentucky mens basketball's win over Florida
Kentucky mens basketball (16-7) defeated Florida (13-10) 72-67 on Saturday, marking the sixth consecutive SEC victory for the Wildcats.
Saturday's matchup was close from start to finish with the largest lead of the night being 14 points (59-45) with around eight minutes left to play. Florida would end up making it a game down the stretch, but the Cats would go home the happier of the two teams. 
As with any game of the season, Saturday's game provided important insight into the team as a whole and where the unit is thus far into the season.
As such, here are three takeaways from the Cats' victory over the Gators. 
Jacob Toppin continues to improve
The past few months have been full of ups and downs for Toppin who, according to head coach John Calipari, has dealt with many issues away from basketball.
Saturday night was yet another showing for Toppin in which the former Rhode Island transfer demonstrated that he is full of confidence.
Toppin shined on Saturday night, finishing second amongst all scorers with 17 points, notching his fifth-straight double-figure scoring game.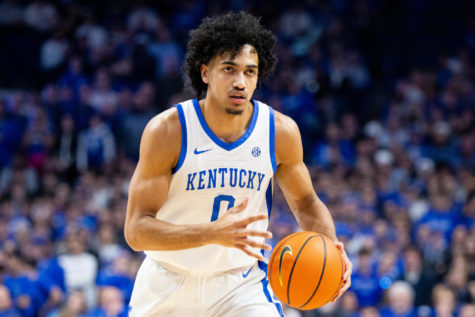 The performance against the Gators once again showed that as time goes by Toppin continues to improve and gain more confidence each outing.
"He has built his own confidence where before if he made a mistake you had to take him out," Calipari said. "Now he's got it. He's doing it. He's really an intelligent player. " 
The energy from Toppin was there from the beginning, with the forward not only getting buckets for the Cats but also causing issues off the glass against the Gators.
"Honestly… me and Oscar (Tshiebwe) before the game said, 'Who is going to get more rebounds?' and well, he got more rebounds obviously, but that is where it came from," Toppin said. "We are always battling each other and trying to see who can get more rebounds and that helps the team in many ways and that helps us as well, so that is where the energy came from."
CJ Fredrick is shooting again
CJ Fredrick, despite having mixed performances as of late, seemed to find his shooting touch Saturday night with the Cincinnati native hitting three of six from beyond the arc on his way to 12 points on the night. 
In getting out of his recent slump, Fredrick said he has never lost his confidence, though he did say how good it felt to be back making shots.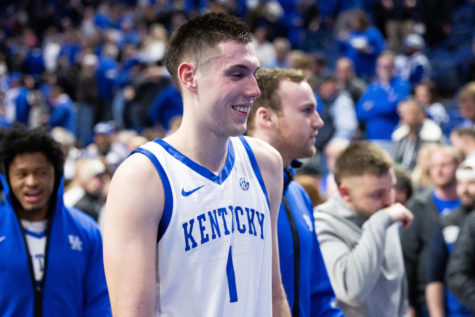 "It felt good, but I've shot so many basketballs in my career, and I put the work in everyday, so there was no extra emphasis on making shots tonight," Fredrick said. "Every time I shoot it, I'm trying to make it. That's just my mindset going into every game."
Fredrick showed just how he is capable of regaining his confidence while reminding others that slumps for shooters will come and go.
"I don't know if there is a shooter who hasn't went through some struggles. My job is to come in and shoot balls. You're not going to make every shot, but I have to have the mindset of shooting the ball when I'm open," Fredrick said. "When you're in a slump like that, [you have] to continue putting in the work, coming in early, getting shots up and continuing to do what I do." 
Tshiebwe does not need to be scoring for the team to be winning
Tshiebwe has had better offensive performances than the one he had on Saturday night. With just four total points, going 2-14 from the field, Tshiebwe was limited on offense against the Gators, which was something Florida center Colin Castleton said was part of the game plan. 
"Just be as aggressive as possible. I feel like just limiting the closest catches to the basket, being able to get around the rim. He's super effective right now and he's a strong guy," Castleton said. "He's just one of the most active players in the country, so being able to just use my length was the biggest thing that they tried to tell me, that was the biggest thing to be honest."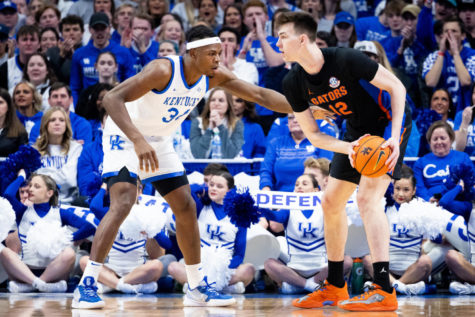 Despite the low offensive production against the Gators, Tshiebwe made sure to make up for it the best way he knows how: getting 15 rebounds to push the Cats to victory.
With Tshiebwe struggling to get buckets, the trio of Fredrick, Toppin and Cason Wallace, who led all scorers with 20 points, stepped up to secure the win.
Kentucky returns to action on Tuesday night, looking for its seventh win on the bounce in the SEC as it hosts Arkansas inside Rupp Arena. Tipoff is set for 9 p.m. EST and the game can be seen on ESPN.