Kentucky offensive coordinator Rich Scangarello fired
Kentucky offensive coordinator Rich Scangarello was fired on Tuesday, becoming the second UK coach to lose his job just days after the conclusion of the 2022 regular season.
Scangarello was in Lexington for just one season, replacing Liam Coen in February after the latter accepted the offensive coordinator position with the Los Angeles Rams of the NFL.
While Scangarello's hire was met with excitement around Lexington based on his NFL-mind and his history of working with NFL-level quarterbacks, Kentucky's offense was nothing short of disappointing in 2022.
Kentucky scored over 30 points in a total of just three games all season, against Miami Ohio, FCS Youngstown State and Northern Illinois, and an average of 17.5 points against SEC opponents.
With the team entering the season ranked within the AP Top 25 and even reaching as high as No. 7 at one point, finishing the season 7-5, including losing five of the last eight games, was a far cry from meeting the expectations placed upon the program and much of the blame revolved around the offense.
This fact was exacerbated by Kentucky's 24-21 loss to Vanderbilt inside Kroger Field, marking the first time in 26 straight attempts that the Commodores beat any SEC team.
The Wildcats went from ranked No. 8 nationally in the red zone, converting roughly 72% of their attempts in 2021, to No. 103 nationally, with the chances of converting in the red zone being akin to a coin flip (53%) in 2022.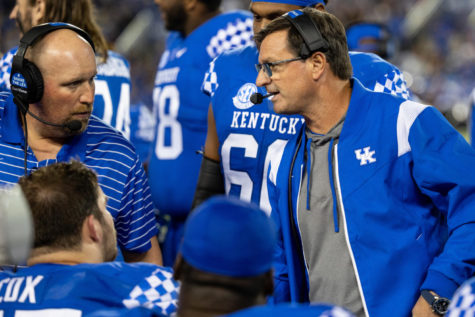 To make matters even worse, the Kentucky defense held strong for much of the year and ensured that, had Kentucky scored just 25 points per game and opponents' scores did not change, UK would currently sit at 11-1 with the only loss being in Knoxville against Tennessee.
With all the blunders of the offense, even with a less than stellar offensive line, Scangarello earned very little sympathy from fans for his struggles with a likely first-round NFL Draft pick at quarterback and a program record-setting running back to support him.
Unfortunately for Kentucky, the loss of Scangarello means that whoever Kentucky hires for the 2023 season will mark the fourth offensive coordinator in four years since head coach Mark Stoops fired Eddie Gran after the 2020 season.
Scangarello was the second coach to lose his role on Stoops' staff following the end of the 2022 regular season, being fired just one day after John Settle, UK's now former running back coach and co-special teams coordinator.
Whether or not more coaches will follow is yet to be seen.