School Choice Week Celebrates 'Magic' of Education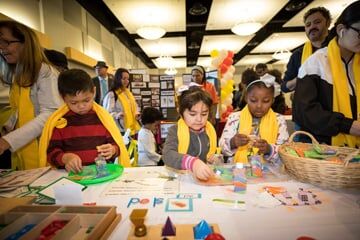 (NewsUSA)
– Celebration is on the horizon. Americans are gearing up for the twelfth annual National School Choice Week, the nation's largest celebration of opportunity in education on January 23-29. As president of the Week, I know firsthand that exploring your K-12 education options can change the trajectory of your family.
This annual public awareness week celebrates great schools and empowers families to find the right fit. This year there'll be more than 25,000 events and activities planned by schools and homeschool groups. Participants celebrate the Week however they like: Some host open houses, some plan multi-school fairs, some run student showcases.
The reason so many people celebrate the Week is the same reason I've worked in education so long: Because learning is magical. It fuels children's natural curiosity and allows them to unleash their talents and gifts into the world.
What's especially magical is kids finding a learning fit where they excel. Whether it's at their neighborhood public school, a public charter school, a magnet school, a private school, an online school, or through homeschooling, it is ever-exciting and awe-inspiring to see kids who love learning and are fulfilling their potential. And it's a tragedy when that fails to happen.
Too often the happy "magic" of learning falls to the wayside as we become preoccupied with the stress of school searches or classes that aren't the best fit. School Choice Week helps families rediscover the positive in education, bringing them support and a time to celebrate their choice, whatever it may be. Those who celebrate it believe that every child, given the right environment, can succeed. They believe that great teachers always deserve a "thank you!"
After two disrupted school years, this School Choice Week is a much-needed moment for families to take a deep breath and rediscover the magic of learning.
So, here are three simple ways you can be involved in the Week. First, start a conversation with your child about what they like about school and what they wish were different. Second, learn more about educational choices at schoolchoiceweek.com/state-guides, or share that information with a friend. Third, show appreciation for your school by volunteering at it or saying thank you to a teacher during Jan. 23-29.
By working together, we can help more children experience the magic of an educational fit where they thrive. And when students experience that magic, their futures are so much brighter.
Andrew Campanella is president of National School Choice Week and the author of "The School Choice Roadmap: 7 Steps to Finding the Right School for Your Child."