For many sports fans at the University of Kentucky, varsity programs from football and men's basketball down to track and field and soccer are as deep as the athletics rabbit hole goes.
Those fans would be sorely mistaken.
While Kentucky is known nationally for many of its top-level varsity programs and national championships, the university also has a very rich club sport culture.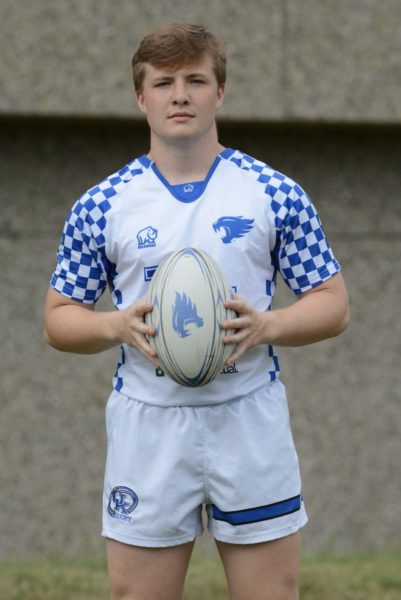 With the trip to nationals and "midnight mayhem" the club hockey team has begun to make its way into the periphery of the casual fan, but dozens of other club sports continue to fight for recognition.
One such sport at the university is rugby.
The game that originated, and perhaps has found the bulk of its popularity, across the pond has struggled to take off as much in the States, but that's not to say there's no culture for the sport in the country by any means. That rich culture is still there and it's fighting to make it into the limelight in the same way other sporting cultures have.
Two athletes on the rugby team, vice president Chester Hale and team captain Jack Phillips, are on the front lines of that fight for recognition as they continue to lay the foundation for what they hope to one day be a thriving culture and program in Kentucky rugby.
"The only reason I'm here is because of rugby," Phillips said. "Obviously I'm here for school but the reason I came to Kentucky was for rugby. I think (trying to grow the program and culture) is just our way of being able to give back to the program."
Phillips, a fly half, grew up in Indianapolis where he competed in both football and wrestling throughout his youth. When he saw many of his friends playing rugby, the transition only made sense.
"I figured, 'Why not give that a shot?'" he said. "Growing up we had flag rugby teams and it was just starting to get big when I was getting into high school and junior high. I didn't have anything going on in the spring and I ended up falling in love with the game."
As for Hale, a center, his journey to rugby couldn't have been more different.
Despite being born in England, Hale moved to Kentucky when he was young and, as such, did not grow up around the sport.
"I didn't play at all in high school," he said. "I moved to America when I was three and there's not much rugby in Kentucky as opposed to Indianapolis. I played like 10 minutes in a game with my cousin in England but I was always just a fan because I couldn't play. Then, when I got to college, I ran with these guys (the rugby team) and fell in love with it here."
It's not as though the rugby team at Kentucky is merely just playing games for fun either as it has found a plethora of success and has solidified itself as a top challenger within its league.
"We are ranked fourth in the nation right now (in D1-AA)," Hale explained. "In our division it's always us, Clemson and Tennessee as the top three. Two years ago Clemson beat us in the SCRC semifinals so it felt good to get a win over them last week."
Playing in the D1-AA level of National Collegiate Rugby (NCR), the Cats call the Southeastern Collegiate Rugby Conference (SCRC) home and have even won hardware. Phillips referred to the conference as the "SEC of rugby."
The Wildcats can be found competing against the likes of Alabama, Georgia, Clemson, Tennessee and South Carolina, brands Kentucky fans will all likely be familiar with.
It's not just in Lexington where the Cats face off either, with the team recently traveling to South Carolina for the aforementioned win over Clemson and still planning to head to Georgia for both Kennesaw State and the Bulldogs as well as travel for the SCRC Tournament.
As a club sport however, travel looks a little different than that of the football or basketball teams.
"We don't get money from the school," Hale said. "A lot of our alumni help out with a lot of travel. We normally get 15-man vans – three to four of them depending on how many guys are traveling – and hit the road. If it's a far away game we'll get a hotel like Friday night if we play Saturday but if it's somewhere like Tennessee we'll just drive down Saturday morning."
Travel is far from the only avenue in which the club has to deal with no university funding either.
"Not having a trainer on the field during practice is probably my biggest gripe," Phillips said. "It's like, I just jammed my finger and I need tape, but we don't have any tape. Having to supply (medical supplies) yourself is just part of it and injuries happen. We have trainers at games which is nice but, (you have to love what you do)."
Phillips also touched on the mental toughness required when one is competing at a high level in such a physical sport but still not being recognized by the majority of Wildcat fans.
"It's super tough to work super hard to achieve a goal and not get recognition for that, it can be frustrating," he said. "It's very physically and mentally demanding and requires a lot of the same hard work as varsity sports."
Using that frustration as fuel, both men hope that the work they do now without as many eyes on the product will help pave the road for the club to potentially earn varsity status in the future and become a spectacle for all of the Big Blue Nation to enjoy.
"I would love for it to be a varsity sport one day," Hale said. "It probably won't in our careers, but fingers crossed for the future. (Rugby) needs more infrastructure to grow (in the United States)."
In the meantime, Kentucky rugby doesn't plan on giving an inch on the field as it continues to fight both in the short term of the game and the long term in the battle for public recognition.
Kentucky is slated to compete in its home debut against Alabama on Friday, September 22, at 6:30 p.m. from the turf fields at 698 Sports Center Drive UK's campus.
Leaving things with an invitation for any who are interested in rugby to join the club, both players also spoke to the philosophy they take into every game.
"Do everything you do at 100%," Phillips said. "If you make a mistake, (have) a short term memory and do it right the next time. Get up after you've been put down and have the resilience to overcome adversity."