No. 16 Kentucky softball salvages road series, defeats Georgia 4-0
No. 16 Kentucky softball shutout No. 10 Georgia 4-0 for its highest ranked win of the season on Monday.
Georgia took the series on Sunday after winning the first two games 9-5 and 4-3 but the Bulldogs were unable to complete the sweep.
In the final game of the series Kentucky was able to steal a game from the Bulldogs, ending their 11-game winning streak.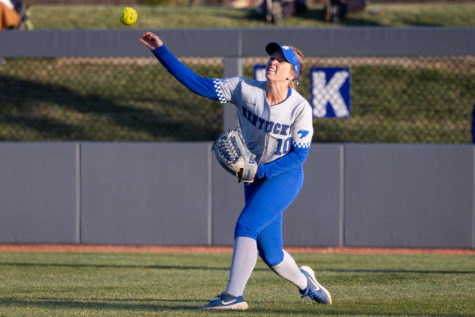 Kentucky was led on the mound by Kennedy Sullivan, who pitched for slightly over five innings, only allowing two hits and no runs.
Sullivan threw 94 pitches against one of the nation's top offenses, recording 50 strikes on the night.
The game went scoreless for the first two innings, before Erin Coffel hit Kayla Kowalik home with an RBI to center field to score the game's first run.
Then, with Vanessa Nesby on second, Rylea Smith hit a ball to left field that caused an error by the Georgia defense, allowing Nesby to score and make the score 2-0.
Sophomore Taylor Ebbs then hit a sacrifice fly to allow Coffel to make it home, with Grace Lorsung batting in Smith for the final run of the game.
Coffel recorded the highlight play of the game, which was nominated for the SportsCenter Top 10, making a diving catch at shortstop to record the fifth inning's second out.
With the win Kentucky improved to 22-9-1 on the season and 5-4 in SEC play.
UK is set to face off against Ole Miss in its fourth SEC series of the season starting on April 7 in Oxford, Mississippi, at 6 p.m. EST.