Kentucky softball prepares for top 10 third SEC series against Georgia
No. 16 Kentucky softball is set to face No. 10 Georgia in Athens for a three-game series beginning on Saturday.
The series will act as a key bounce-back and resume-building opportunity for a Kentucky team that suffered an uncharacteristic defeat against Texas A&M last weekend.
The Wildcats and Aggies found themselves in a slugfest in game one of the series before, despite scoring 13 runs, Kentucky was bested by Texas A&M, which scored 14.
Coming out for game two, which was part of a double header, Kentucky was obliterated 10-0 in five innings, marking the team's worst defeat since it lost to No. 1 Oklahoma 11-0 to end the Oklahoma Tournament.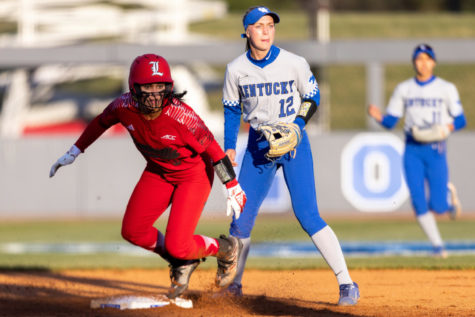 Surprisingly though, Kentucky came back in game three and won 10-2, salvaging a potential sweep and ensuring the Cats only fell five spots in the USA Softball Top 25 poll.
Despite the bounce-back game three, the result didn't stop the Cats from suffering their first conference series loss of the year after sweeping Missouri in early March.
Kentucky seemed to maintain its game three form in the midweek, defeating Louisville, which just missed out on the top 25, 7-4 on Wednesday.
While it may seem that things are picking back up for the Cats, the Bulldogs pose a unique threat, being the highest ranked team Kentucky will have faced since those fateful games against Oklahoma. Even worse, Kentucky has a 1-3-1 record against teams currently within the top 10, of which Georgia currently rounds out.
Kentucky recorded that one top 10 win over current No. 9 Washington, which the Cats defeated 11-3 on Feb. 23.
Other than the Huskies, Kentucky reached a controversial 4-4 tie against current No. 8 Texas to wrap up the 2023 NFCA Lead-Off Classic in early February, was defeated 6-3 by current No. 4 UCLA in the 2023 Mary Nutter Collegiate Classic and was swept 18-0 and 11-0 by the aforementioned No. 1 Oklahoma.
With that in mind, it's clear that the matchup against the Bulldogs will be key in demonstrating whether Kentucky will be able to compete with the teams that make up the upper epsilon of collegiate softball this season or if it is doomed to simply be a good-but-not-great team once more.
The Bulldogs, for their part, enter the series with a 27-6 record after sweeping Mississippi State by a combined 13-0 in a two-game series after game three was canceled.
Going further, including a 9-0 midweek win over Kennesaw State and an 8-0 win over Texas A&M to ensure a series sweep, Georgia hasn't allowed even a single run in its last four games.
The Bulldogs are also undefeated in their last nine games, having not lost a game since its 6-5 loss to No. 23 Auburn on March 10. It's also worth noting that the Bulldogs did win that series against the Tigers anyway, winning games two and three by a combined 10-4.
Back to Kentucky, the Wildcats are boosted by a familiar face: graduate student Kayla Kowalik.
Kowalik, who has somewhat become the face of the program in recent years, is currently batting a .443 average with 43 hits for 12 RBIs on the season.
Kowalik is joined by a plethora of other returning stars to the program, including the likes of Erin Coffel, Rylea Smith, Vanessa Nesby and Margaret Tobias, all of whom also made an impact with the bat last season.
In the circle Kentucky is led by ace Stephanie Schoonover, who stands at a staggering 12-1 on the season, followed by Alexia Lacatena, who is 7-2. Apart from Schoonover and Lacatena, all other pitchers of record combined to be 1-4 on the season.
Schoonover has pitched in 20 games this season, starting in 15 of them and pitching a complete game in 12 of them. She's pitched 10 shutouts, not allowing a run in half the games she takes the circle, earning her an ERA of 1.45.
Lacatena, to her credit, has pitched 12 games and started in five, adding two more shutouts to Kentucky's total. While she's never completed a game, she has earned a respectable 2.54 ERA, which stacks up especially well against Kentucky's next best pitcher, Izzy Harrison, who has a 7.68 ERA in eight games played.
Overall, Kentucky will be under the spotlight over the weekend against Georgia. The only question that remains is whether or not it will shine or crumble.
Kentucky and Georgia are set to kick off their series on Saturday, April 1, at 2 p.m. EST in Athens, Georgia.