Kentucky softball rises to No. 11 in week six of USA Softball Top 25
Kentucky softball (19-5-1) maintained its top 15 status as it rose to No. 11 in week six of the USA Softball Top 25. 
The rise in ranking comes as the Wildcats added three more wins to an ongoing eight-game win streak with wins over Saint Louis in the midweek and Michigan and DePaul in the 2023 John Cropp Classic.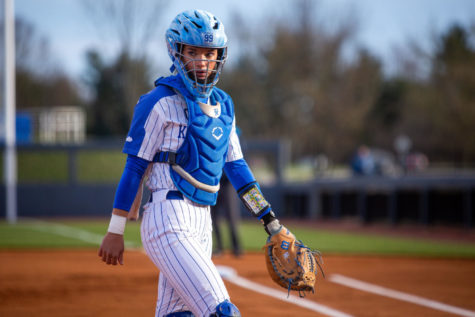 Rankings for the Wildcats varied across entities with USA Today placing Kentucky at No. 13 while DI Softball and Softball America placed Kentucky in the top 10 at No. 9. 
Eight other SEC teams also took their places in the top 25 of the USA Softball rankings with Tennessee (24-1) rising to No. 3 after being tied with Clemson at No. 4 in week five.
Florida (22-5) moved up one spot to No. 10 after winning its first SEC series 2-1 against Missouri, while Alabama (22-8) stayed put at No. 13.
Recent struggles have plagued LSU with the Tigers dropping two spots to No. 12 after they were swept by No. 3 Tennessee at home in their second SEC series.
Georgia (24-6) saw improvement since week five as it moved up one spot to No. 16 after sweeping No. 24 Texas A&M (16-10), which dropped three spots following the series.
After losing five of its last eight games, Arkansas (22-8) dropped five spots to No. 17, despite beating No. 13 Alabama 2-1 in its second SEC series.
Auburn (22-9) rounded out the list of ranked SEC schools having dropped three spots to No. 25 after losing six of its last seven games, including a 14-0 loss to No. 1 Oklahoma (27-1).  
The Wildcats will look to extend their win streak when they take on No. 24 Texas A&M at John Cropp Stadium on Friday, March. 24 at 2 p.m. EST. 
A full list of rankings can be seen below: 
Oklahoma Sooners (27-1)

Oklahoma State Cowboys (25-2)

Tennessee Volunteers (24-1) 

UCLA Bruins (27-3) 

Clemson Tigers (29-1) 

Stanford Cardinal (24-3)

Florida State Seminoles (24-6)

Texas Longhorns (26-5-1)

Washington Huskies (22-6)

Florida Gators (22-5)

Kentucky Wildcats (19-5-1)

LSU Tigers (23-5)

Alabama Crimson Tide (22-7)

Virginia Tech Hokies (22-5)

Duke Blue Devils (24-5)

Georgia Bulldogs (24-6) 

Arkansas Razorbacks (21-8)

Oregon Ducks (19-8)

Utah Utes (21-5)

Arizona Wildcats (20-9)

Northwestern Wildcats (13-8)

Baylor Bears (22-5)

Louisiana Ragin' Cajuns (21-9)

Texas A&M Aggies (16-10)

Auburn Tigers (22-9)
Others receiving votes: 
Wichita State (29), Maryland (16), Missouri (13), Arizona State (7), Mississippi State (7), California (4).