Kentucky baseball dominates Indiana 12-2, enters SEC play 15-2
Kentucky baseball routed the Indiana Hoosiers 12-2 on Monday, winning in just seven innings via the run rule.
The win boosted the Wildcats' record to 15-2, which will see the team enter SEC play on an 11-game winning streak.
First baseman Hunter Gilliam continued to be hot at the plate following his SEC Player of the Week and NCBWA Dick Howser Trophy National Hitter of the Week honors the previous week.
The senior finished 2-3 on the day with five RBIs and a home run, boosting his batting average to an impressive .431.
Jackson Nove earned the win on the mound in the game, having pitched just 1.1 innings and allowing two hits and an earned run. The Cats brought out five different pitchers in the win, with the group pitching a combined seven innings with just two earned runs allowed on four hits.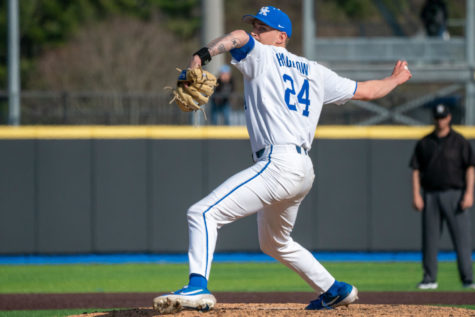 Kentucky started the game with freshman Travis Smith, who went the first two innings allowing one run and two hits, on the mound. The Wildcats then put in Nove, Ryan Hagenow, Austin Strickland and finally Evan Byers to finish out the game.
Kentucky opened the scoring on the night with Gilliam advancing home on a balk in the bottom of the second inning. In that same inning, Ryan Waldschmidt and James McCoy scored off the bat of senior Grant Smith to make it 3-0.
Indiana would respond with a run of its own in the top of the third to cut the lead to two, but Kentucky would come right back in the bottom of the third with Gilliam bringing in Devin Burkes with a double to right centerfield.
Indiana would return the favor with its second and ultimately final run of the game, with Matthew Ellis driving a ball into left field to score freshman Devin Taylor.
The rest of the game would be all Wildcats, starting in the bottom of the sixth when Gilliam singled to left field to score Burkes.
Then, later in the inning, a single off the bat of Emilien Pitre would bring Chase Stanke home to score, making it 8-2.
This would bring Gilliam back up to the plate, where he would continue to haunt the Hoosiers, drilling a three-run home run to left center field, making it 11-2 and putting Kentucky just one run away from a run-rule victory.
That run rule would eventually come in the very next inning as Jackson Gray made it home off the bat of Burkes to put the nail in the coffin and secure the 12-2 victory.
Kentucky baseball has two days off before entering SEC play against Mississippi State on Friday in Kentucky Proud Park. The first pitch is set for 6:30 p.m. EST as Kentucky looks to continue its hot streak and begin a grueling SEC schedule.