Kentucky baseball claims 5-4 victory over Southern Illinois in extra innings
Kentucky Baseball (12-2) returned to Carbondale, Illinois, for the first time since 1980 and prevailed against the Southern Illinois salukis (6-8) in a 10-inning affair, winning 5-4. 
Graduate student Darren Williams started the game on the hill for the Wildcats and gave them six solid innings, finishing the game with three strikeouts and no walks but surrendering seven hits and two runs to the Salukis.
The next pitcher out of the bullpen was sophomore Mason Moore, who pitched one-run baseball over two and one-thirds innings. Moore gave up four hits and struck out three while giving up no walks.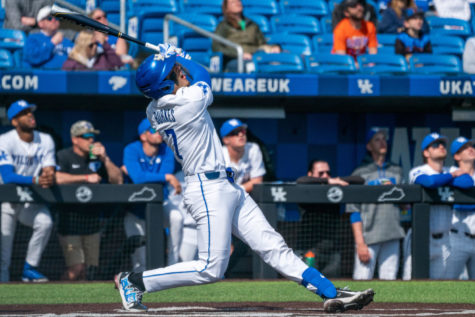 Moore would give way to the game's final pitcher, Seth Chavez, who would give the Cats the final inning and two thirds of the game. Chavez gave up no runs on one hit, one strikeout and one walk, with his clutch pitching in the 10th inning securing the victory for the Cats.
With runners on the corners and two outs, it would come down to a 3-2 count where Chavez would freeze the Southern Illinois hitter with a fastball at the knees for strike three. Chavez was ultimately the pitcher of record, receiving his first win of the year.
On the other side of the ball, it would only take the Wildcats two innings to get on the board against the Salukis as sophomore Nolan McCarthy would send a single through the left side to send redshirt senior Hunter Gilliam home to give the Wildcats a 1-0 lead.
They would pick the scoring back up right when they got their next chances at the plate in the third inning when Gilliam would follow what his teammate did in the second inning by sending a single through the left side to score redshirt sophomore Devin Burkes and senior Jase Felker and extend the Wildcat lead to 3-0.
Kentucky would get back on the scoreboard in the fifth inning with some help from the Salukis' pitcher as a wild pitch would bring home Burkes, increasing the lead to 4-0.
After a few rallies from the Salukis the Wildcats would find themselves tied in the top of the tenth inning before sophomore Émilien Pitre came through with what would be a game-winning single up the middle to score senior Grant Smith and give the Wildcats a decisive 5-4 lead. 
Kentucky will look to claim the series victory in game two of the series against the Southern Illinois Salukis on Saturday, March 11, at Itchy Jones Stadium at 1 p.m. EST.