Wildcats battle through game ejections to advance to second round
Kentucky womens basketball completed the upset against Florida in the first round of the SEC Tournament, winning against the Gators with a score of 72-57.
The win marked the Wildcats' first after losing their past seven consecutive games, with their most recent loss coming against Tennessee 83-63 this past Sunday.
Despite the unsuccessful games, Kentucky was able to push past the Gators, even in light of a major interruption.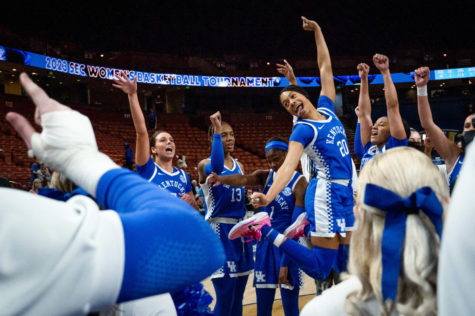 Sparks flew towards the end of the first half when Kentucky forward Ajae Petty pushed the ball into Florida forward Tatyana Wyche, prompting Wyche to retaliate by throwing the ball at Petty.
This altercation led to a bench clearing resulting in eight ejections, four of them being on Florida's team and the others coming from UK's side.
The game was stopped for more than 20 minutes as the referees carefully sifted through the chaos.
Cassidy Rowe, Eniya Russell, Saniah Tyler and Zennaih Thomas for Kentucky were ejected for leaving the bench during the scuffle. Petty received a technical foul while Robyn Benton was given an intentional foul.
The ejections added a new complexion to the game as both teams became extremely undermanned on the bench.
Guard Jada Walker and forward Adebola Adeyeye were happy with how the team responded to the distraction.
"Our energy was great after that…we finally picked that energy back up and picked that defensive intensity back and good things happened," Adeyeye said.
Points were at a premium all game as both teams struggled to shoot the three, but it was Kentucky's defense that was able to get enough stops down the stretch.
The Wildcats held Florida to a field goal percentage of 28% in the first half to only shoot 34% in the second.
While Kentucky also struggled to score in the first half, they found much success in the second, shooting 55% from the field and having one of its best third quarters in its recent games.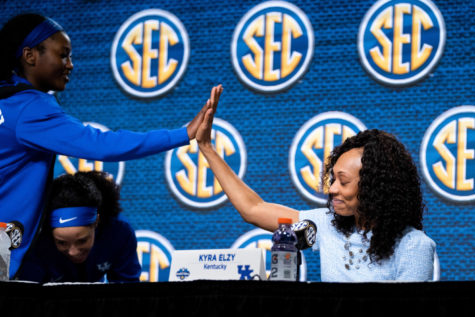 Head coach Kyra Elzy kept her message the same to start that third quarter, urging her players to keep fighting.
"We kept talking about four minutes at a time…I wanted everyone to be free and try to empty their tank," Elzy said.
The second half surge was led by Benton who scored 16 of her 20 points in the second.
The big win was settled in the fourth quarter as the Wildcats outscored the Gators by 13 points and finished the game with their largest lead of 15 points.
The Wildcats will next take on No. 6 Alabama on Thursday, March 2, for the second round of the SEC Tournament. Tipoff is scheduled for 25 minutes after the conclusion of game 5 which should end up being around 8:30 p.m. EST. The game will be streamed on the SEC Network.