Kentucky softball outlasts Loyola Marymount to win defensive battle
Kentucky softball (7-1-1) fought to secure its fifth consecutive win as it defeated Loyola Marymount 1-0 at Smith Field in Los Angeles.
Kentucky's offense would start out slow, recording only one hit in the top of the first courtesy of senior Rylea Smith.
Junior pitcher Stephanie Schoonover would get the start on the mound for the Wildcats, recording three strikeouts in the bottom of the first as she looked to top her career-high 11 strikeouts she set against McNeese State on Friday.
After a hitless top of the second from Kentucky, Schoonover would add three more strikeouts to her tally, sending the first three batters she faced back to the dugout.
Both teams would also fail to score in the third despite graduate student Kayla Kowalik recording her first hit of the game.
The Wildcats then failed to record a hit in the top of the fourth as well, entering the fifth inning with the score at 0-0 after Schoonover tallied two more strikeouts.
After another hitless inning, Kentucky's defense would be tested in the bottom of the fifth as Loyola Marymount runners advanced as far as third base.
Despite the hiccup, the Wildcat's defense would hold strong with Schoonover ending the inning with her ninth strikeout of the day.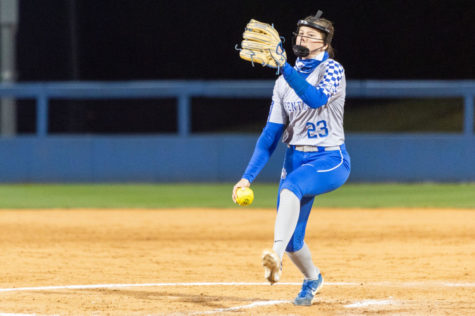 Kentucky would finally break the deadlock in the top of the sixth after Kowalik and junior Erin Coffel were walked, putting pressure on the Lions. The pair were followed by a single from junior Grace Lorsung, plating Kowalik to give Kentucky a 1-0 lead.
Schoonover would add another strikeout in the bottom of the sixth, refusing to surrender any hits in the inning.
Kentucky's offense would end the game with another hitless inning, with everything resting on the Wildcats' defense to hold strong in the bottom of the seventh.
LMU sophomore Lilliana Thomas would start the inning with a leadoff double with graduate student Elisa Rosado being subbed in as a pinch runner at second base.
A pop fly would eventually result in out number two before poor base running would end the game after Rosado attempted to stretch an infield single into the game-tying run. 
Unfortunately for the Lions, she would be thrown out at home, clinching the victory for Kentucky and seeing the team improve to 7-1-1.
Schoonover came within one strikeout of her career-high, tallying 10 Ks on the day and pitching a complete-game shutout.
Kentucky will look to keep its win streak alive when it travels to Palm Springs to take on No. 10 Washington to kick off the 2023 Mary Nutter Collegiate Classic on Thursday, Feb. 23, at 3 p.m. EST.