No. 15 Kentucky softball records two shutouts, sweeps second double-header of North Texas Tournament
No. 15 Kentucky softball shut out both South Dakota and No. 22 North Texas on Saturday in the 2023 North Texas Tournament in Celina, Texas.
In the first matchup against South Dakota, sophomore Izzy Harrison pitched a complete game and only allowed two hits and three walks in the five innings that were played. 
Kentucky came right out of the gate with a three-run double by sophomore Taylor Ebbs in the top of the first. Harrison then answered by retiring the side in the second half of the inning.
The Wildcats brought in two more runs in the second inning from walks by junior Erin Coffel and graduate student Kennedy Sullivan. 
Defensively, Harrison was able to lead the team in the bottom of the second by striking out two batters, despite giving up a single.
The next two innings were not nearly as eventful, although Kentucky scored two runs in the third on a sacrifice bunt by graduate student Kayla Kowalik.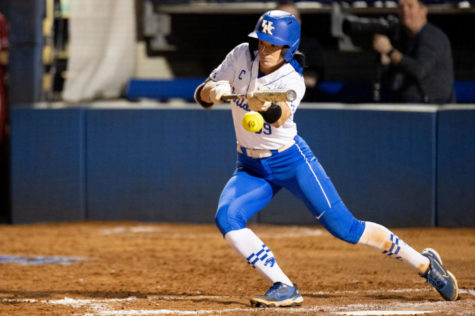 The game ended on a high note for the Cats in the fifth inning with RBIs from both Kowalik and Coffel.
South Dakota could not make it past second base for the remainder of the game, leading Kentucky to prevail 9-0.
The Wildcats transitioned into the second game against North Texas with junior Stephanie Schoonover on the mound, who would go on to record a historic performance for her third win of the season. 
Neither team was able to get a runner on base in the first inning, but Schoonover struck out all three batters she faced to start off the game.
In fact, the Dothan, Alabama, native also struck out the side in the next two innings before striking out three more batters nonconsecutively in the fourth.
At the plate, Kentucky tallied three runs in the third inning after a home run by Coffel sent both Kowalik and redshirt freshman Jenna Blanton home.
Neither the Wildcats nor the Mean Green scored in the fourth or fifth, but Schoonover's strikeout total stood at 14, tying for her career high, going into the sixth.
A fielder's choice RBI by Blanton in the sixth inning scored another run for Kentucky and Schoonover proceeded to retire the side afterward.
A scoreless seventh inning capped off a 4-0 victory for the Cats and a no-hitter for Schoonover, who set a school record with 18 strikeouts in the process.
Kentucky will look to keep the win streak alive and finish the tournament strong against Sam Houston State on Sunday, Feb. 19, at 11 a.m. EST.