Kentucky bounces back, secures 5-1 win over Elon in game two
Kentucky baseball (1-1) rebounded from its opening day loss on Friday, defeating Elon 5-1 to even the series at one game each.
The pitching staff was dominant in the win, being led by the games' winning pitcher, graduate student Tyler Bosma, who was perfect through four and two-thirds innings and would go on to pitch six additional scoreless innings, only giving up two hits while racking up four strikeouts.
Junior Austin Strickland would eventually relieve Bosma, picking up right where he left off. Despite a run and some traffic in the ninth, he would finish the day with three strikeouts and one hit, awarding him the save.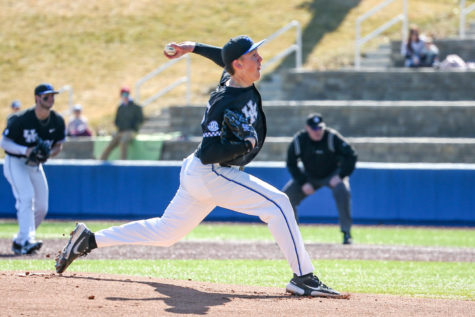 The Wildcats also got off to a hot start offensively with the leadoff hitter, sophomore Ryan Waldschmidt, hitting a double. He would go on to reach base two more times throughout the game.
Waldschmidt would advance to third after his leadoff double on an error by Elon's shortstop before a squeeze bunt by sophomore Emilien Pitre would put the Wildcats on the board for the first time this season.
The Wildcats also scored on a fielder's choice from senior Isaiah Byers, who would bring home senior Jackson Gray to increase the lead. 
Two-out hitting was also on display from the Wildcats' offense as redshirt sophomore Devin Burkes would put two more runs on the board for the Cats while senior Grant Smith also brought in a run with two outs.
With the win the Wildcats will look to ride the momentum and take the series in the finale against Elon tomorrow, Feb. 19, at 1 p.m. EST at Latham Park in Elon, North Carolina.