Kentucky's couple: Blair Green and CJ Fredrick grow together
With Valentine's Day just around the corner, there's few things that highlight the season in Lexington more than a love story from two members of some of Kentucky's most popular athletic teams. 
Newly engaged mens basketball guard CJ Fredrick and womens basketball guard Blair Green captured Big Blue Nation's hearts with their endearing relationship that culminated in a ring to finish out 2021.
What started as group hangouts with the basketball team evolved into frequent walks together and competitive one-on-one basketball games and, soon enough, Green found herself saying yes to a kneeling Fredrick in Gatlinburg, Tennessee, over the holidays.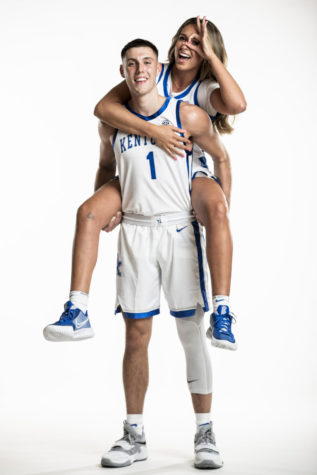 That said, before their engagement story could come to be, several months of building a special friendship that would be pivotal in getting the couple through one of the most challenging periods of their athletics careers had to take place.
Going back to the beginning of the 2021-22 basketball season, both Fredrick and Green suffered season-ending injuries, a major blow to both the former, who was looking to play his first season since transferring, and the latter, who was forced to miss her senior year with one of her close friends, eventual No. 1 overall WNBA Draft pick Rhyne Howard.
Luckily for the pair, their recovery process helped the duo lean on each other during their lowest moments and build themselves back up stronger than before.
"There's not many times when someone totally understands what you're going through, like what you're feeling, the pressures you have and feeling like you're missing out with your team," Green said. "Having someone with me every day who was feeling the same way but keeping a positive attitude really helped me along the way by making it a little bit easier and kind of making it fun."
Back in September, prior to their engagement, Fredrick spoke about the situation similarly, saying his relationship with Green allowed him to see the bigger picture of his injury and enjoy the rehabilitation and recovery processes with his best friend by his side.
Once the 2022-23 basketball season began with both Fredrick and Green back on the court, their love and support for each other continued to grow even while focusing on basketball.
"I just never saw it ending," Green said.
Soon enough, the talk of wedding rings and a future together became just as natural to them as dribbling a ball. 
After Fredrick had successfully tricked Green into thinking that he was not going to pop the question until after the season had ended, he took her by surprise on a wintery night in Gatlinburg.
Bringing her to the top of the mountains, looking at Christmas lights in Anakeesta and listening to carolers, Green found humor in thinking Fredrick had just been filled with the holiday spirit.
"He pulled me over to the side at one time and started telling me all this sweet stuff and it still didn't hit me that he was proposing," Green said. "I thought he was still just having a moment."
It didn't click for Green that Fredrick was about to pull off the ultimate surprise with friends and family right around the corner.
"It really caught me off guard and all of a sudden I see the camera and one of my good friends, who is the photographer, coming out, and then his family's there and I'm like, 'How did you pull this off?'"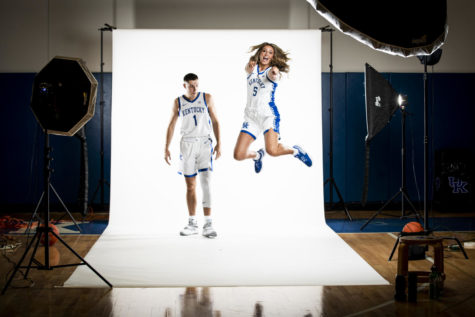 Though an engagement at the peak of not one but two college basketball seasons could seem like a lot, Green said not much changed between the two in how they go about their relationship and look at the rest of the season.
Just as they had supported each other as a dating couple, they continue to support each other as an engaged couple and are waiting until the season is over before allowing themselves to think about wedding plans. 
Now that the attention and masses of messages of love and support from Big Blue Nation have begun to settle down, Fredrick and Green have shifted their focus back to basketball and continue to lean on each other as they did when going through rehab together.
"After a hard loss or if I play badly, he's always someone I can come to and he can just instantly make me feel better," Green said. "One day, I was having a really bad day and he was like, 'Man I played like that too. I can't hit a shot, but you know what, the sun's going to rise. Basketball doesn't define me. I'm a child of God.' (He helps me see) there's a bigger picture and that stayed with me ever since he said that."
With busy schedules to navigate, the duo continues to find joy in the little spontaneous ways to spend time together, whether they go on a date to a new restaurant or find somewhere to play arcade games, Green and Fredrick do not need much to be reminded of the unconditional love they have for one another. 
As Green puts it, the engagement is "the cherry on top" of both her and Fredrick's last seasons playing as a Wildcat and the journey they've experienced thus far together.
No matter what the future holds for them, Lexington can expect to see Green and Fredrick by each other's side or on opposite sides of a friendly basketball game, with their relationship seemingly forever rooted in the hardwood of Kentucky basketball.