Second half meltdown led to Kentucky's loss at home against Alabama
The first half of its game against Alabama was looking promising for Kentucky womens basketball as the Cats entered halftime with a 33-31 lead.
Unfortunately for the Wildcats, their momentum would screech to a halt in the second half, scoring only nine points in the third quarter on their way to a loss on Thursday.
Perimeter shooting from the Crimson Tide proved to be the downfall for Kentucky, with Alabama rattling in 13 of its 28 attempts from beyond the arch.
"We did not close the gap," Kentucky head coach Kyra Elzy said. "They're a great big point shooting team obviously, they shot the ball well all season long."
Despite the precision shooting from Alabama, the Wildcats held their own in the paint in the first half, with 18 of their 33 first half points coming from under the basket, allowing Kentucky to lead by 11 points halfway through the second quarter.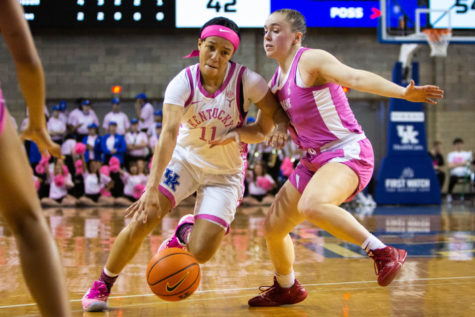 "Coming in, something that we talked about a lot were points in the paint, defending the paint, off dribble penetration," Alabama head coach Kristy Curry said. "We gave up 18 points in the paint, that is unacceptable."
Sloppy offense and unorganized defense would then plague the Wildcats coming out of the break with Kentucky sophomore Jada Walker saying it was "nothing they (Alabama) did" and that Kentucky "came out stagnant."
Alabama as a team attributed the turnaround to halftime adjustments, particularly on the defensive end.
"It's always about your response," Curry said. "We adjusted our defense a little bit, we went more zone, but coaches can make the adjustments but it's really players so credit to our kids for being able to make adjustments and find a way to get enough stops for us to get some momentum."
Alabama graduate student Brittany Davis was the biggest contributor to Alabama's victory, posting 22 points, 11 rebounds and four assists, one of the four Alabama players to score 10 points or more.  
"It was a team effort," Davis said. "We all go through adversity, and I think we all fought through that today. I just kept going and my teammates kept hitting me."
Despite the loss, Walker and graduate student Robyn Benton both had good outings for Kentucky with Walker scoring 15 points and Benton putting up 14.
Forward Adebola Adeyeye also left her impression as well, scoring nine points and pulling down nine boards.  
Following the loss, the Wildcats will look to salvage the rest of the regular season as they travel down to Oxford to take on Ole Miss at the Sandy and John Black Pavillion on Feb. 13 at 7 p.m. EST.