Kentucky womens basketball looks to regroup and salvage season against Alabama
After a tough 87-69 loss to No. 1 South Carolina last Thursday, Kentucky (10-12) looks to return to winning form against Alabama (17-6) inside Memorial Coliseum on Thursday night to salvage an otherwise disappointing season.
Prior to its game against South Carolina, Kentucky had recorded a 23-point victory against Missouri (77-54) for just its second win of the SEC season.
With just five conference games remaining after the Tide visits Lexington, the pressure on Kyra Elzy's squad continues to add up as the regular season draws to a close.
Alabama enters Memorial Coliseum on the back of its fourth consecutive road win, defeating Missouri 76-69 in its last outing on Sunday after a career-high 33-point performance from Brittany Davis.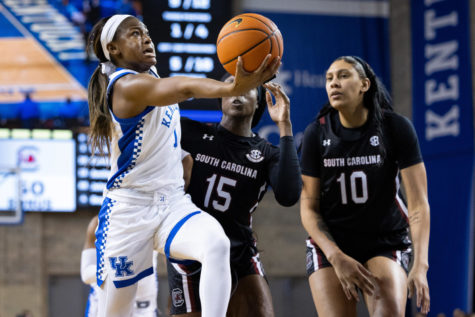 The 33 points on Sunday also marked the ninth time Davis has scored 20 or more points this season, making her one to keep an eye on against the Cats.
While Davis is averaging 18 points and 6.5 boards per game, which leads Alabama in both categories, she is not the only player to pose a significant threat against the Wildcats.
Megan Abrams is another name to look out for as she currently averages 8.6 points per outing, with Aaliyah Nye also averaging eight points a game.
Nye also leads the conference and ranks ninth nationally for 3-point percentage, shooting 44.7% from distance, showing she can cause major issues from beyond the arc. 
Alabama as a team ranks as one of the top 3-point shooting teams in the nation, ranking 11th nationally in 3-point percentage, hitting 37.5% of the time behind the arc. The Tide also ranks 14th nationally in 3-pointers per game, averaging 8.6 made threes an outing.
With this, the Crimson Tide currently averages 71 points per game while the Cats average 70 per game.
On the defensive side of the ball, Alabama is well protected with Jada Rice, who has tallied 54 blocks, averaging 2.35 blocks per game this season to rank 12th and 14th in the nation respectively. 
For the Wildcats, Robyn Benton continues to impress as she scored a team-high 24 points in Kentucky's last game against South Carolina on Thursday, though it wasn't enough in an 18-point loss.
Benton also leads the Wildcats in scoring, averaging 17.3 points per game, and leads the team in made threes per game as well, knocking down 1.5 three-pointers per game while shooting 28% from three-point range.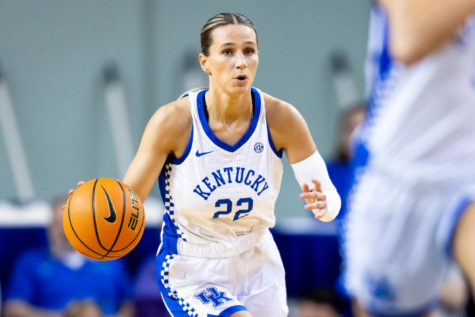 Maddie Scherr is also contributing great numbers for the Cats recently, bringing in 5.5 boards and dishing out 4.8 assists per game to lead Kentucky, while also scoring 10.9 points per game in the process. She also ranks third in the country in free throw percentage, hitting 93.3% of the time at the line. 
Kentucky will need big games from both Scherr and Benton against the Tide on Thursday when the team enters the home stretch of the regular season. With the season nearing its end, wins have become few and far between for the Wildcats.
With memories of the 2022 SEC Championship still fresh in the minds of Kentucky fans and players alike, if Elzy's squad wishes to recreate the magic of last season, it will have to start its run against the Crimson Tide on Thursday night. 
Tipoff against the Crimson Tide inside Memorial Coliseum is set for 7 p.m. and will stream live on SEC Network+.