Kentucky mens basketball seeks to renew SEC winning streak against Florida
After securing a win in Oxford, Mississippi at the beginning of the week, Kentucky mens basketball travels home to host the Florida Gators over the weekend.
The Wildcats defeated Ole Miss without their starting point guard Cason Wallace who is currently averaging 11.3 points and 3.6 rebounds.
Wallace is said to have suffered a minor knee injury when Kentucky came up short against the Jayhawks last weekend and his status for Saturday's game is not clear.
Despite his absence on the court, Kentucky remained solid as Sahvir Wheeler took on more playing time in Oxford than he had for the past handful of games and contributed nine assists, four points and four rebounds against the Rebels.
With that being said, even with Wheeler as a suitable challenger against the Gators, Wallace's potential absence could be difficult in the wake of a fired-up Florida who most recently stunned No. 2 Tennessee.
The Gators took on Tennessee this past Wednesday, Feb. 1, with a 12-9 (5-3) record and with the odds of beating the Volunteers heavily not in their favor.
Florida's top notch Gator senior Colin Castleton racked up 20 points and 9 rebounds during the game while teammate Kyle Lofton put up 14 points himself.
The win, which is by far Florida's most impressive win of the season, will no doubt still be fueling the Gators when they get to Lexington.
When looking at past matchups between Florida and Kentucky, the Wildcats lead the series 107-41 over the Gators. In Lexington, Kentucky is 54-11.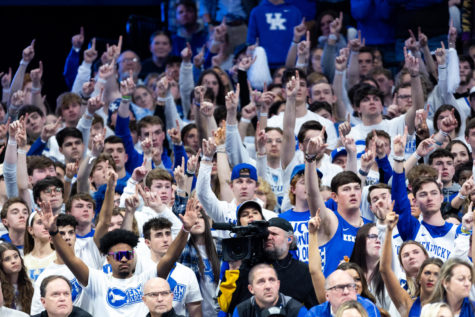 Getting more into the numbers, Kentucky is putting up an average of 75.3 points per game while Florida falls behind at 71.5 points per game.
The Wildcats also lead on the boards, three-point field goals, steals and assists while Florida takes the bragging rights in notching more blocks and free throws per game.
Starting off conference play 0-2, Florida has recently found itself coming out on top in six of its last eight games which, on top of the Tennessee win, makes for a potentially dangerous team.
Although Kentucky outranks the Gators in offensive efficiency, Florida puts up a dominant defensive fight, ranking 10th in the nation in defensive efficiency.
This means that Kentucky forward Oscar Tshiebwe, while averaging 16.5 points and 13.6 rebounds per game, could very well start off slow trying to find his rhythm, especially against leading blocker Castleton.
Something significant to note is that while Castleton is responsible for the majority of blocked shots, he is also doing so while having a low foul average – only averaging 1.48 for every foul.
Although this SEC matchup does not have either team's season relying on the outcome, Kentucky needs to keep winning.
The all-too-common struggle for Kentucky of getting off to a slow start on the court will not do any good against a fired-up Florida team who will look to capitalize on Kentucky's early offensive weaknesses.
A respectable run for the Wildcats on their way to take on a revenge-seeking Tennessee in just two weeks might provide Kentucky with the fire to look for another upset this season.
Kentucky and Florida are set to tip off on Saturday, Feb. 4, at 8:30 p.m. EST inside Rupp Arena in Lexington, Kentucky. The game can be watched live on ESPN.