The 3-pointer: Kentucky's best friend or worst enemy
Kentucky dropped yet another quadrant-one opportunity on Saturday, this time losing inside Rupp Arena to fellow blue-blood program Kansas in a 77-68 contest.
While there are numerous things that could be pointed to as a reason for the loss, it's hard to not harp on the lackluster performance from beyond the arc as a big one.
The Cats finished the game shooting 2-13 from beyond the arc, having finished the first half having not made a single 3-pointer and heading to the locker room 0-6 from downtown.
It wasn't the first time Kentucky struggled from deep early in a game, with an unfortunate pattern emerging for the Wildcats.
Veteran Antonio Reeves commented on the team's 3-point struggles over the weekend.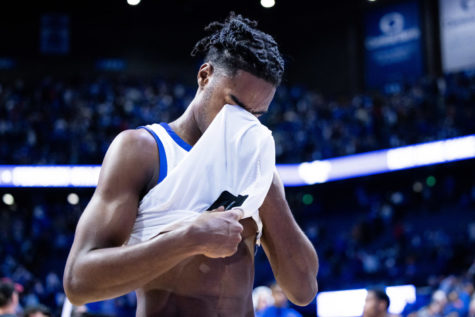 "We already knew that they were a good defensive team," he said. "It's just (about) us finding good looks and making the open shots."
In Kentucky's 21 games thus far this season the Cats have shot just 25.7% from deep in the first half, down nearly 10% from their overall average of 36.9%.
Even more glaring is when you divide these first half numbers by wins and losses.
In games that Kentucky has lost this season, it has shot a combined 14.1% in the first half from 3-point range.
Also, worth noting is that there have been three instances in which Kentucky entered halftime without hitting a single deep ball, recording the unfortunate feet against Gonzaga (0-10 from deep, lost 88-72), South Carolina (0-3 from deep, lost 71-68) and Kansas (0-6 from three, lost 77-68).
On the other side of that coin, in games Kentucky has won, the Cats have shot a combined 41% from deep by halftime, above their overall team average.
The numbers make it clear that when Kentucky gets off to a hot start from deep, it puts itself in a far better position to win games.
Although the higher percentages when focusing on wins could be swayed by lower-level defenses to start the season, the number is still significantly higher in SEC wins as the Wildcats have shot 36% from beyond the arc at halftime in SEC wins and 15.3% in SEC losses.
The numbers are also interesting to note when looking at complete game percentages as opposed to just first half figures.
It's fairly obvious to say that, amongst almost all college basketball teams in the country, 3-point percentage is going to be lower in losses as opposed to wins, as hitting more threes usually results in higher scores.
What is less obvious is how many teams are almost entirely reliant on a good 3-point shooting percentage to win a game as opposed to which teams are able to succeed even with lower figures.
Any dip larger than 10% is considered pretty drastic by 3-point shooting standard, with the average drop in percentage for wins and losses being around 6-7%.
In fact, among the top 10 teams in KenPom, a website using a multitude of statistics to calculate the most efficient teams in the country, the average 3-point percentage difference in wins and losses is 5.4%. The lowest among the top 10 is Texas with 1% and the highest is Tennessee with 11%. 
Kentucky, however, nearly triples the average of these top teams with a stunning 14% 3-point shooting differential in wins as opposed to losses.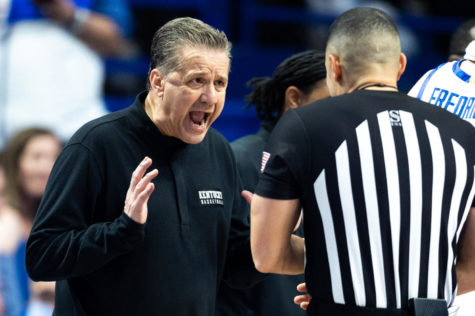 With Kentucky still hoping to be a team with high expectations, having started the season ranked No. 4 overall, the Cats may find difficulty doing so when the team is evidently so reliant on a good shooting night to be successful.
That said, the numbers aren't too shocking when considering how much 3-point success affects Kentucky's star center, reigning consensus National Player of the Year Oscar Tshiebwe.
When Kentucky is unsuccessful from beyond the arc, opposing defenders are more likely to leave shooters unguarded and crowd the paint, weakening the effect Tshiebwe can have both in rebounding and scoring the ball.
In doing so, the opponent has an easier time shutting down "Big O" with double and even triple coverage, and it's hard to win a game when one of the biggest names is unable to meaningfully contribute.
It's clear that Kentucky's ability to shoot the 3-point ball is absolutely crucial to its success this season, arguably even more so than almost any other team throughout the NCAA.
The Wildcats will have an opportunity to bounce back from the defeat when they head to Oxford, Mississippi, on Tuesday, Jan. 31, to take on the Ole Miss Rebels. Tipoff against Ole Miss is scheduled for 9 p.m. EST and will air live on ESPN.